Paul Thomas Anderson's latest is a gripping character study of two men who need, in turn, to love and be loved in a twisted symbiotic relationship of power, seeking respectively to worship and be worshipped. Joaqiun Phoenix is riveting as a wayward borderline psychotic who desperately seeks a place to belong in the world, who hooks up with charlatan self-help cultist The Master played with incredible range and brio by Philip Seymour Hoffman giving a masterclass in 'big' acting – physicality and grandstanding is the order of the day with their performances as they each push the other onto greater heights and displays of neediness. This thinly veiled portrait of Scientology founder L Ron Hubbard's empire building makes for an immersive and visually sumptuous feast for cinephiles.
Kim Ki-duk's Venice Golden Lion winner is a typically extreme Kim film about a sadistic loan shark who's mother, whom he has never met, turns up out of the blue on his doorstep begging for forgiveness for abandoning him. Soon he is questioning his violent past and forced to reflect on his deeds when his mother goes missing. It's a relentless trip into darkness which for me felt like an immature wallow in sexual degradation and trademark Kim shock tactic violence. It avoids tedium through it's ultra-violence but left me yearning for something with more emotional or intellectual depth.
Billy Bob Thornton's gentle soulful tale of fathers and sons set against the background of the Vietnam war. William Hurt plays the English widower come to The USA, with his grown children, to bury his dead American wife Naomi. The rub is he and his children stay with Naomi's first husband, Robert Duvall, still nursing a grudge against the Brit for taking his wife. What could descend into typical culture clash farce is raised by the terrific performances (including a terrific Kevin Spacey as WWII vet turned pacifist) into a moving portrait of families struggling to get along.
It's hard to believe this clumsy, sentimental, shallow, frequently on-the-nose drama is from Chen Kaige who was once the flag bearer for Chinese art cinema with powerful form-pushing titles like Yellow Earth and Farewell My Concubine. His latest feels very much like someone struggling to remain relevant and coming rather late to China's slew of films set around the Web's potential for destruction . It's a contrived sprawling mess about misconceptions and Internet privacy all wrapped up in a saccharine love story with cancer thrown in for good measure. The latter comes across as an insurance bet in case the audience fails to feel anything for the film's paper thin characters.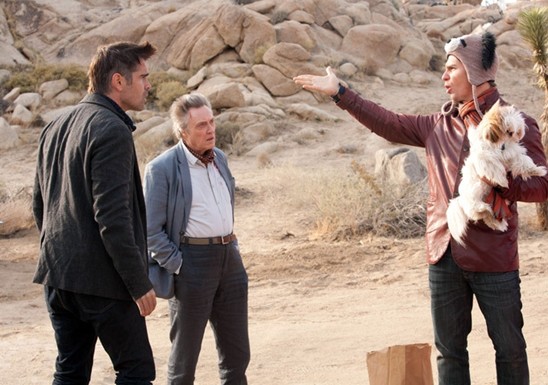 A hugely enjoyable, witty, bloody, foul-mouthed meta-movie about a screenwriter (Colin Farrell) and his friends (played by Christopher Walken and Sam Rockwell) trying to write a film called… yep… Seven Psychopaths. Made by playwright Martin McDonagh (In Bruges) I suspect it will be a solid hit. If it sounds on paper like another film about filmmaking where the filmmakers have nothing much to say, it manages to completely transcend this with its sparkling dialogue and terrific performances which have effortlessly given me the laugh of the festival. Carter Burwell's soundtrack can't help but remind us of the Coen Brothers and this is a film clearly in love with their world yet unique enough to stand proudly on its own two feet.
A portmanteau horror film with 26 directors from around the world each taking a letter of the alphabet and making a short film about death. Kicking off with A for Apocalypse it's a fun ride if a little long.
Spike Lee's epic doc on the making of Michael Jackson's 1987 Bad album is a joyous love letter to the troubled musician with countless heavyweight interviews from Quincy Jones to Martin Scorsese which received a rapturous reception at TIFF. While it carefully avoids much of the extra-curricular darkness around the man and sticks exclusively to his musical achievements, it provides a vivid study of the iconic star and looks set to be a definitive portrait of the man at the zenith of his career.