Overnight Film Festival is a residential film festival which took'place in a grand hotel on the seafront of my home town, Eastbourne. The idea was to create a weekend event where people could stay overnight to watch and discuss films, eating breakfast together in the mornings. By choosing to hold the festival overnight, it provided our film goers with a unique chance to discuss the programme and reflect upon it with fellow audience members.
I think the biggest challenge for the festival team was that we didn't know who our audience was going to be. It's extremely difficult to programme for an audience that doesn't yet exist. We had an idea of the type of audience we wanted to reach, which also included trying to attract local film fans from Eastbourne.
My interest has always been focused on female directors and the representation of women in film. I was also aware of the discussions and screenings happening around the visibility of female directors with various screenings, venues introducing The F Rating and publications dedicating issues to celebrating female directors. Therefore it felt natural for me to continue to explore this theme within my own film choices.
We decided to ask three guest curators to contribute to the festival programme and present their choices. We contacted women from different disciplines in film whose work we admired and also felt would help create a diverse programme. Our three curators were actor Ariane Labed, writer and broadcaster Emma Dabiri and filmmaker Jenn Nkiru. It was important to us that the guest curators did not already have a programming platform.
We asked the curators to send us a selection of potential titles for their two given slots, so that we would have back up titles if we were unable to secure the screening rights and materials. There were a few titles we were not able to play because the screening fees were too expensive, although a few distributors did kindly offer us a first time festival discount. One disappointing omission from the final program was Julie Dash's Daughters of the Dust, which sadly couldn't be used as the film was receiving a restoration.
It was decided that I would programme Opening and Closing Night, as well as the Sunday Hangover screening. The Opening Night was particularly important, as I knew that the first screening could inevitably set the tone for all the whole weekend, so I worked hard to carefully choose an appropriate film, one that would also be uplifting enough to encourage people to dance, drink and party after.
In the end, I chose Milo Forman's Loves of a Blonde, as it's a really fun and charming film, with the added benefit of being short (only 82 minutes). I was very aware of the location we were in and I wanted to reflect this in my film choices; all the screenings took place in the hotels ballroom, which was reflected in the setting of the first half of Loves of a Blonde.
Eastbourne is very much a seaside town which comes to life during the summer months and I wanted to find something that explored this lifestyle and particularly, the memories made during many teens adolescent years. Whilst reading a Sight & Sounds issue titled The Female Gaze, I came across the documentary Wildwood, NJ which sounded perfect for the festival. As a fellow seaside girl, I fell in love with the women who were given a voice in this documentary and strongly felt audiences would connect to them to.
Wildwood, NJ had also not been played in the UK before and knowing that we would be the first to premiere the film at our festival was really exciting. As the film is only an hour long, I decided to pair it with Million Miles Away, directed by Jennifer Reeder, which I thought explored similar themes and also fitted into my teenage girl morning screening. I would've loved to have played more short films before the features, but it was not financially feasible to do so in our first year.
It has been a dream of mine for some time to screen Wanda, directed by Barbara Loden, and Closing Night felt like the perfect opportunity for this. I'm aware that this film is rarely screened and that it is extremely hard to find a copy in UK so this was a real draw.
Obtaining the rights was a little tricky, but I soon discovered that they belonged to Barbara Loden's son. There aren't any digital copies of the film available in the UK, so we wanted to screen it on 35mm, however this proved a difficult task. As we were a new festival, we found it difficult to hire archive prints, such as the restored copy from UCLA. We heard of two copies floating about, one at the Austrian Film Museum and the other at BFI, but both came with a warning that they were blown up from a 16mm print.
As the majority of the team are format nerds, we really wanted to screen films from analogue film, so out of the nine features and two shorts we used, six were shown on film. We wanted to add something special to the audiences screening experience and we had the projector on display (although the fan on the projector was a little too loud during the non-subtitled films).
The majority of our prints came from the BFI Archive which was really helpful as it kept transport costs down and meant that the quality of the prints was excellent. One of the guest curators, Jenn, had worked with Kasi Lemmons so we were extremely lucky to be able to borrow Kasi Lemmons personal 35mm copy of Eves Bayou, which was vividly beautiful.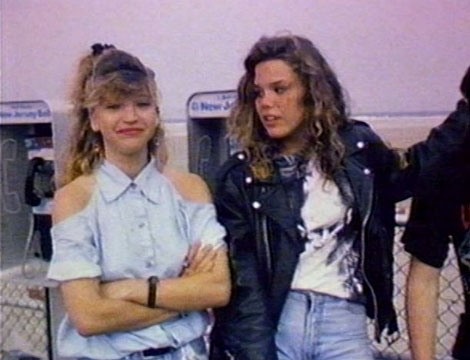 Since then, I've organised a tour which will take place at seven different venues across the UK, from June to August. Since completing the ICO Practical Programming course, I have become more aware of and excited about cinema programming outside of London and I was really keen to work with some inspiring venues. The majority of venues will be teaming Wildwood, NJ with another film; its been really fun seeing how different venues have chosen to present Wildwood, NJ and the events which will be built around the screening.