With the upcoming BFI London Film Festival opening on 3 October, our Programming team highlight the films they are most looking forward to from the festival.
Catharine Des Forges, Director
Sweet Charity (directed by Bob Fosse)
"There ain't no use flappin' your wings, 'cause we are stuck in the flypaper of life!"
I am biased but if you have never seen Bob Fosse's 1969 influential musical-comedy drama Sweet Charity on the big screen then this 50th anniversary 4k restoration screening at London Film Festival will be an enormous treat. It stars the great Shirley MacLaine alongside an all-star ensemble cast including Sammy Davis Jr and Ricardo Montalbán and is based on the script of Fellini's Nights of Cabiria.
It's hard to know where to start – the musical score by Cy Coleman and Dorothy Fields; Bob Fosse's choreography with its iconic numbers; the scene stealing cameo by Sammy Davis Jnr (performing 'Rhythm of Life' in a brilliant musical scene) or the Dayglo production design all combine to produce a dazzling, joyful impact on the senses. Not to mention the amazing costumes (by Edith Head), fantastic songs ('Hey, Big Spender') and dance sequences (including 'Rich Man's Frug'), it is one of those films that when it finishes you want it to start all over again…
Finis Terræ (directed by Jean Epstein)
I heard so much about Finis Terræ following its screening at Il Cinema Ritrovato Festival, Bologna, that was intriguing and makes this 1929 film from visionary Jean Epstein seem an unmissable opportunity. The screening at London Film Festival is also a chance to hear live musical accompaniment by Stephen Horne – a regular at our Archive Screening Days and composer of a number of our Britain on Film scores live, which is always completely engrossing.
Jean Epstein's timeliness narrative is about survival, told through the story of two young men living by harvesting seaweed to burn for prized soda on a tiny island off Brittany. Epstein's blends a number of techniques and resonant images from the key film movements of the time to produce something extraordinary.
David Sin, Head of Cinemas
So Long, My Son (directed by Wang Xiaoshuai)
Director Wang Xiaoshuai was one of the leading lights of China's so called 'Sixth Generation', a group of Film Academy graduates from the 1990s whose concerns and technical approach deviated from directors like Chen Kaige and Zhang Yimou who immediately preceded them and who had brought international acclaim to Chinese Cinema in the 1980s. Sixth Generation filmmakers, like Jia Zhangke and Wang largely eschewed the spectacle found in the films of their predecessors, adopting instead a much more pared back, naturalistic approach, borrowing from Bresson and cinema-verite, to offer more urgent, penetrating films that dramatised and documented the realities of contemporary China during a period of rapid social change.
In recent years, as commercial forms of Chinese Cinema have become more familiar to audiences around the world, so the voices of these filmmakers have appeared to be less strident, diluted in the big pool of rom coms and swordplay films. So it's interesting that this new film from Wang arrives at the London Film Festival, where Wang provides commentary on contemporary Chinese society through an epic narrative around two families that begins in the 1980s. So Long, My Son looks like a summary of his career to date, a story of modern China as experienced by ordinary people. To my mind each new film from Wang Xiaoshuai is a must for anyone interested in China and Chinese Cinema. And never has an independently minded Chinese Cinema, which is reflective and discursive about contemporary China, been as important as it is today.
Los Olvidados (directed by Luis Buñuel)
Buñuel's portrait of Mexico City's street kids is surely one of the great works of what we now consider World Cinema, a film which pushes the neo-realist vision of the 1940s to its limits, refusing to hold back in its depiction of the kids as driven by their natural instincts as well as their social conditioning, full of unforgettable imagery.
This latest restoration from L'Immagine Ritrovato in Bologna and its screening at the London Film Festival 2019 should be an event – for years, as I know from my own professional experience, UK theatrical rights have been mired in the type of impenetrable legal dispute that can occur in the film industry, but that also means that audiences do not have access to key works from film history. During this time, the film was only ever screened in the UK on very limited tours and using old prints. So this is a rare chance to see one the great films of in what is no doubt a beautifully restored version.
Isabel Moir, Film Programmer
Ema (directed by Pablo Larraín)
Ema is the latest work by visionary Chilean Director Pablo Larraín, whose previous body of work includes Neruda, No and his most recent English Language release, Jackie, in 2016. Set in Chile, Larraín's latest feature tells the tale of a couple reeling from a devastating incident and the colossal impact this has on their marriage and family life. Newcomer Marianna Di Girolamo plays Ema, a talented dancer and teacher who also shares a fiery relationship with her husband and creative collaborator. Gael Garcia Bernal reunites with Larrain again in the latter role after starring in both No and Neruda.
Ema premiered at this year's Venice International Film Festival and was met with glowing reviews, leading to the film becoming one of the most anticipated titles in this year's London Film Festival programme and will be positioned as one of the Strand Gala screenings. Striking fluorescent images and stylised set dance pieces are all set to an atmospheric score by acclaimed Chilean-American composer Nicolas Jaar (Jacques Audiard's Palme D'or Winner for Dheepan). From these early glimpses, including a visually stunning trailer and my favourite poster in recent years, it is already clear that Ema is a film that audiences will certainly benefit from seeing on a big screen. The film currently has no UK Distributor; therefore it's a great opportunity to see an early festival screening of this film.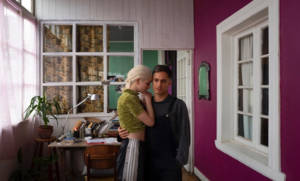 Honey Boy (directed by Alma Har'el)
Honey Boy is the recent collaboration between filmmaker Alma Har'el (Bombay Beach, Love True) and actor Shia LaBeouf, who makes his debut here as a writer with his confessional script that's inspired by his upbringing; it is also Har'el's fictional feature debut. Honey Boy provides audiences with an insight into the complex relationship between LaBeouf and his father as well as the lingering effects of emotional abuse. Within this layered meta-narrative, LaBeouf plays a version of his father accompanied by past and present versions of himself played by Lucas Hedges and newcomer Noah Jupe.
Within the LFF programme, LaBeouf will also feature in this year's Love Gala title, The Peanut Butter Falcon, further cementing his reputation for taking on an interesting range of complex character roles. Her previous work has beautifully blended the boundaries of documentary and fiction with her dreamlike and poetic images. Alongside Natasha Braier's (XXY, Neon Demon) cinematography, I am interested to see how her unique vision and style will help bring Labeouf's writing to screen. After already screening at Sundance Film Festival and TIFF, Honey Boy will play in the LFF Official Competition section in one of the strongest categories I have seen in recent years. This title has already been picked up for distribution by Sony Pictures, so audiences can look forward to catching it at venues across the UK in the near future.
Heather McIntosh, Film Programmer
Rocks (directed by Sarah Gavron)
I was lucky enough to attend a production set visit, exactly a year ago, of British director Sarah Gavron's third feature film – when it was still untitled – so I've been anticipating Rocks' completion since then. During the visit, there was a clear energy and camaraderie between the young female actors which promised to translate into a heartening film about the power of female friendship.
Following its World Premiere at this year's Toronto International Film Festival, it has received a 5* review from The Guardian's Peter Bradshaw suggesting it should enjoy critical success upon its, as yet undated, UK release by Altitude Distribution.
Set in the East End of London, and made up of a diverse cast of non-professional actors, who were all developed through intensive workshops with director and cast, the film has been compared to Céline Sciamma's phenomenal 2014 feature, Girlhood. This is a comparison title that makes me even more excited to see it, with Girlhood being one of my favourite films of all time. (I think I've mentioned this in previous blogs. Sorry, I really love it). As well as the principal cast of mostly women newcomers – Bukky Bakray, Kosar Ali, Shaneigha Greyson, D'Angelou Osei Kissiedu, and Sarah Niles – the crew is also predominantly made up of women. Hélène Louvart's cinematography, which promises to be both naturalistic and intimate – as seen in her work on Happy as Lazzaro – is another exciting element of the film. It's also based on a script from award-winning playwright Theresa Ikoko and Little Drummer Girl writer Claire Wilson. Given all the above components, it sounds like it's going to be an energising and refreshing film, and one of the titles I'm most excited to get the chance to see at this year's London Film Festival.
White Riot (directed by Rubika Shah)
Developed from her 2017 short, White Riot is director Rubikah Shah's first feature film, screening in the Documentary Competition section of this year's London Film Festival. It documents an important protest movement, Rock Against Racism (RAR), which was founded in 1976. During a time of increased racist violence, where the National Front were targeting immigrants and people of colour, RAR's punk and reggae gigs formed a movement of anti-fascist resistance. Starting as a grassroots movement, it culminated in a carnival in Victoria Park in 1978, featuring X-Ray Spex, Street Pulse and The Clash.
As the documentary explores the virulent anti-immigrant and anti-white racism we know is on the up in a Brexit-voting Britain, it seems an extremely relevant time for audiences to see this film – reminding people of the ways in which we can fight fascism and stand in solidarity with those being affected. The film has no UK distributor yet. It's always a good opportunity to see those titles at LFF, as you don't know if you'll get another chance to see them on the big screen.
The BFI London Film Festivals runs from 2-13 October 2019 at multiple venues in the capital. See their website for information on all up-coming screenings and how to attain tickets.