We spoke to artist, curator and programmer Qila Gill about the added value programme notes can bring to your screening and how to write them successfully.
When we talk about film programmes, we commonly forget that the first exchange between the audience and the film is not necessarily the visual form of the work (trailer included) and can be the written version of the work – synopsis, reviews and programme note. Language is an art of persuasion and the most successful writing is able to convince audiences that cinema is a liberty, an experience of freedom.
What is a programming note?
A programming note is a monolith to the screening programme which a venue, festival or a film club has ideated for its audience. It is the first and arguably the most important piece of information an audience will respond to in their engagement with a screening. Therefore, it is paramount for the writing to be attractive and appealing in order to lure them into the dim lit black box. Its purpose serves in providing information such as genre, format, demographic etc, but also acts as an insight into the message and theme(s) of the film(s). This is part of the responsibility of writing a programme note. It is a mixture of creative writing and applied technical guidance. Though it is worth noting that, a programming note is not a press release. As much as it is important to note the artist's previous work, it is more important to contextualise the film itself.
Also, to note: When putting together a programme note, it needs to grab the audience's attention immediately. The more concise and precise you are in describing (use adjectives) the film, whether thematically or conceptually, the better.
How do you contextualise?
Talk about what is interesting about the work visually. How does it stimulate the audience? Remember why you think it was a good choice to screen the film(s). You use this piece of information to show off what is amazing about the film(s). Make sure to do justice to the artist and their intention. Research is important in writing about a piece of work. The 100 words programme note should show you have done enough research. You are acting as a second agent to the artist(s) – after all, programmers are in some way a 'sales agent'. Read example
Useful tips in writing a programme note
1. Create a Persona
The film industry consumes stories and fictionalised characters for breakfast, lunch and dinner. The idea of creating a persona should assist you to form a connection with your targeted audience. This may sound like I am trying hard to tell you that you need to sell a product but what actually really helps when you create a persona is that you get your audience to engage with you emotionally. To be precise, we are trying to build a relationship based on information and interaction that should also be based on trust and respect. There is a need for compassion in the underlying tone of your writing. It's like reading a passive aggressive email, even when they say thank you, you know it's not sincere. The same applies for when you are writing a programme note; the tone in your writing should show sincerity and most importantly compassion, and by compassion I mean the gentleness and soft flavour you would like to hear ringing in the back of your head. Read example
2. Choice of Words
Synonyms and the thesaurus are your best friend! There are so many ways to say one thing and again, it's all about how you say it. Remember that time you got defensive because your friend was being critical of your outfit but if they had just said it differently maybe you wouldn't have been offended and accepted it as constructive criticism? (even then, you totally should wear whatever you want!). Use this same principle when you are writing a programme note. It is your responsibility to be considerate and attentive. I want to take this opportunity to speak to white writers/programmers writing about films from artists of colour or work that are sensitive to social issues. In contextualising the work, it is important to understand the perspective of the work and the artist(s). Firstly, I highly endorse working with programmers of colour who would be in a better position to write a more conclusive programme note when it comes to film(s) related to the ethic margins and it's diaspora. Otherwise, it is important to be vigilant and not project any bias towards the topic or theme of the film. Read example
3. Be Vivid
Visual writing is an immersive form of language that effectively enhances the reader's interaction with a programme note. Reading a programme note, you would want your audience to feel an ephemeral sensation as though they are actively partaking in the film(s). So, describe the nonverbal cues such as the mood and style of the story. This tends to have a better response than factual writing which can come across monotonous and bland.
Earlier this year I attended a writing workshop on expanded approaches to writing with artist, Daniella Valz Gen. The workshop taught us to use our senses to write – embodied writing. When reading a programme note, it should give some sort of sensation to your body – that I am 'feeling feelings' sensation. In this time of anxiety, meditation has become so crucial in our daily routine. By adapting the same concept towards writing a programme note, the entwining of senses and pacing creates a transpersonal and bodily interaction with the audience. Touching you, touching me, can you feel what I am saying? Read example
4. Accessibility
Your audience are not all going to be academics – so please avoid elongated academic jargon. This is not the time to show off. The target audience should feel included in the programme. Good writing can produce a relationship with an audience on an exclusive level. The note should be immediate but also feel personalised. Read example
5. Image
There are a few questions to ask when you are including an image with your programme note –
1. Does it serve a purpose?
2. What message is it conveying?
3. Does it complement the short note written alongside it?
We know how images are a strong component in catching our attention. As cinephiles, it's probably what we are most critical about. When given a limited space to include an image, it is important to acknowledge the role it plays; a window to the soul of the film(s). A gripping image could help amplify the audience's visual cues about the programme. So, when picking a still for the programme, always make sure firstly that the image fits the context of the programme and that the merging of language within the writing and visual is tangible.
A good example of a programme using an image to captivate an audience's interest is Experimenta Mixtape.
Experimenta Mixtape is a new series in the monthly BFI Southbank Experimenta stand. There is no introductions, no guests, no information about what will show in advance – at all – but a much broader range of films and you will only receive the programme note at the end of each screening.
For the 4th edition of the programme, programme curator, William Fowler, included a picture of 6 dogs posing family portrait style in a cemetery. This cute and intriguing image creates a mystery and passively activates the need to put on a deerstalker and smoke a pipe.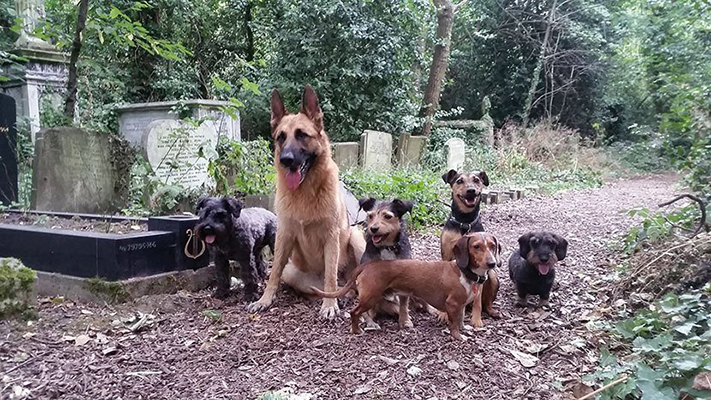 With more experimental programmes or screenings, the aim is to challenge the audience to get out of their comfort zone and be traversed through their visual palette. So, don't be afraid to be daring, try something bold and experiment!
Qila Gill is an artist, curator and programmer. Currently programming queer films for The Palace International Film Festival.  Previously an Experimenta Associate for LFF, this year she's pre-selecting for Encounters Film Festival, Cork International Film Festival and LFF.