2018 marked my 8th visit to Cannes Film Festival and my main aims were to catch up with some of our international contacts and then see as many films as I could pack in. My whole career has been based on developing international partnerships and Cannes plays a unique part in the film calendar that allows you to meet and catch up with a huge number of contacts in an intensely quick period, on a beach on the South of France, with Cate Blanchett posing for photos on the red carpet behind you.
Doing my job, it's difficult not to feel the very real impact of Brexit looming, and at both this year's Berlinale and in Cannes I could palpably feel the muted tone of the discussions as people wait to find out what the true consequences of Brexit will be for funding, partnerships, and collaboration potential and how the UK will position itself after we (potentially?) exit the European Union. Putting aside the financial loss of funding from various sources, the most alarming thing is actually that the UK will no longer be part of the same conversations.
Sharing a diversity of experience across borders ensures better discussion, more innovation and more creativity (and better solutions to the challenges faced by cinemas and film festivals).  This year we were proud to host a meeting for our Developing Your Film Festival training course alumni at the Creative Europe Pavilion, a hot spot for meeting international partners and collaborative relationships being formed. I've never really understood why UK film industry folks spend all their time in Cannes at the UK Pavilion talking to other British people when being affiliated with the Creative Europe Pavilion has so many natural networking benefits (surely a plus for anyone attending an international market?).  Anyway, let's see what the next year brings in terms of negotiating the UK's exit from the EU but hopefully ongoing participation in the Creative Europe programme.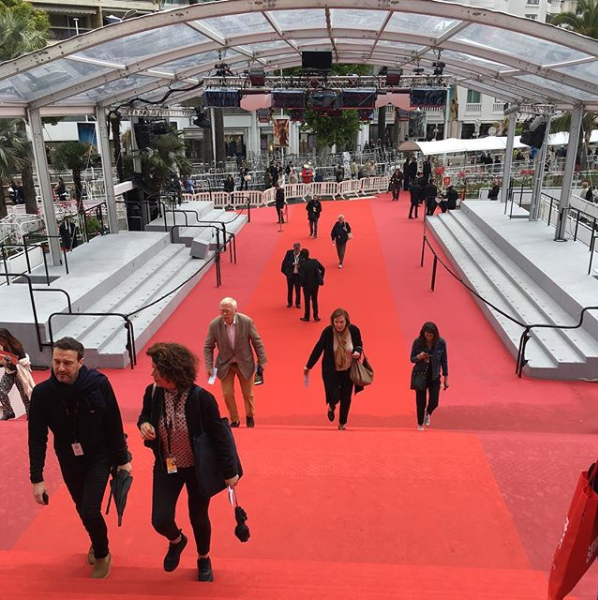 On a more positive note the initiative to encourage 18 – 28 year olds to attend the festival this year is brilliant, and I was really pleased to see this long overdue conscious effort to begin to open access to one of the most exclusive festivals in the world.
I was lucky enough to see loads of films this year and these are the three that stayed with me:
The Harvesters
Directed by Etienne Kallos, this was an absolute gem of a film hidden in Un Certain Regard – with glorious cinematography reminiscent of Days of Heaven (not just because of the farming theme!)  this is a brutal, tense story of a threatened community and a family in crisis. Left me guessing right up until the end.
Leave No Trace
Due to be released in the UK in June I still couldn't resist a sneaky preview in Cannes of Debra Granik's hotly anticipated follow up to Winter's Bone. I'm still thinking about it. It's an intelligent, delicate, quiet and subtle tale of modern America, the likes of which is so rarely made.
Shoplifters
Such a beautiful film, which manages to be utterly charming without being overly sentimental, it's the story of a young girl taken in by a family of good-hearted shoplifters. Shining the spotlight on an unconventional domestic unit gives prominence to the underclass of Japanese society with compassion and humour.  Hirokazu Kore-eda fans will definitely not be disappointed and the Palme d'Or will hopefully encourage a wider audience to see it too.