Arriving into Cannes mid-afternoon on Friday 17th May, I was invited to dinner with our very own Simon Ward and Ed Fletcher of Soda Pictures. A relaxed and comfortable re-introduction to the madness that is Festival de Cannes, I thought.
I thought wrong.
Awaiting our pizzas in a restaurant on one of the cozy backstreets off of the Croisette, conversation inevitably turned to film – first with what we had seen that day – "psychotronic horror" from Italian rock God Federico Zampaglione; in competition Mexican drama Heli, genital mutilation et al. I hadn't seen anything that day and so was just happy to listen to the thoughts and opinions of these two estimable film fans.
We were soon discussing British film, or lack thereof-it at the festival this year; or the lack of interest it receives back home. As pioneer of New British Cinema Quarterly (@nbcq), Ed certainly has something to say about the matter, and as a British filmmaker actively engaged in ways of developing audiences for homegrown films, I too felt able to contribute.
Which is where I came unstuck, and a relaxed evening for me turned into something a little more grilling. For when asked about my opinion on Shifty and Welcome to the Punch, I had to admit that I hadn't seen either – seemingly illustrating Simon and Ed's point that our filmmakers don't see enough of our own product.
I was quick to then mention that the last British film I saw was in fact one of Soda's own, Flying Blind and that my favourite film of last year was We Need to Talk About Kevin, but their point had hit home and I left dinner a little deflated.
Tucked up in bed before Simon had even returned to the flat ("You old man!"), with the Market Guide and a red marker, I went through the thousands of listings searching out the British films on show. Tomorrow would be a turning point: new British cinema was now on my festival agenda.
Tomorrow would also be the day when it started pissing it down. How apt.
Never one for the uncivilised 08:30 showings, I was pleased to find Clio Barnard's The Selfish Giant playing at Arcades 1, mercifully close to our apartment considering the inclement weather. Grim up north? It can get pretty grim down south, too.
The film is a rather flawless example of social realism: funny, touching, terribly sad – true. It feels like a true successor to Loach's early work and clearly marks Barnard out as a major, major talent. Really and truly this is a work that will resonate with all who are British, regardless of status, because its heart is true.
I left the cinema in a strange quandary, feeling at the same time both sad – by how we tend to turn our nose up to such work – and excited – by how such strength of voice exists in our native cinema.
Determined to see more I went to Shorts Corner in the Palais to meet an Actress/scriptwriter friend of mine. The film she had written was on the database and so I sat down in one of the little booths to watch Two Persons Max, a black comedy set entirely in a lift. Effective and well-performed, it uses its minimal resources very well and never over-reaches; it is smart and I had great pleasure in telling Billie this.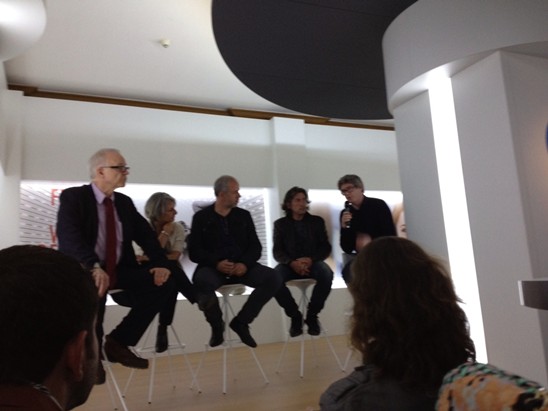 I then went and performed 'bums-on-seats' duty for a PR friend at the Majestic, for a talk about animation. I'll be frank: I'm not hugely 'into' animation, so this really was a favour. Hosted by Tim Gray of Variety, the talk was actually very interesting and I came out knowing 3D was always going to die, and that my friend would be happy to meet me later that evening and talk about her work on my own projects. Job done.
And so to my final film of the day, the only British film in any competition, Paul Wright's debut feature For Those in Peril. Part of Critic's Week, the film is also up for the Camera d'Or (best first feature). And I could see why: formally quite interesting, with the use of different formats to illustrate the psychology of the lead character, it is obviously the work of a clever and dynamic filmmaker.
The film does however suffer from an over-use of this formal trickery; never going further or trying harder to represent the descent into madness and therefore becoming quite familiar and unsurprising. It's hard to knock a film that does something a little different, but I imagine that Paul will only get stronger with each film he makes.
And so I finished the day in a state of positive enthusiasm for our British filmmakers, wanting to work hard to help make sure they receive the audience they deserve. And to turn the tables on Simon and Ed, maybe next year over a pizza just off the Croisette. I'll be ready.
#britfilmaudience