In a few weeks' time we'll be organising our Summer Screening Days in Lewes' Depot, one of the greenest cinemas in Europe. Their Green Ambassador Natasha Padbury shared with us examples of the impressive work they've done so far and what are their top ten tips for running a more sustainable cinema. 
We all need to make significant changes to reduce the threat of the impending climate disaster and cinema exhibitors are no exception. Despite the bleak forecast there are many reasons for being optimistic. The story of Depot tells that taking responsibility and making change is not only within our grasp but is an empowering, exciting and addictive feeling.
Depot is an independent 3-screen cinema and café-restaurant which opened in May 2017. It is located in the centre of Lewes, East Sussex. It was developed on the site of what used to be a depot for the local brewery – hence our name. The project was made possible by local film enthusiasts Carmen Slijpen, Director and Programmer and Robert Senior, Chair of Trustees with design by architects Burrell, Foley and Fischer. We offer a programme of cross-over, arthouse and independent films; world cinema, documentaries and classic films; along with special events, guest speakers and workshops.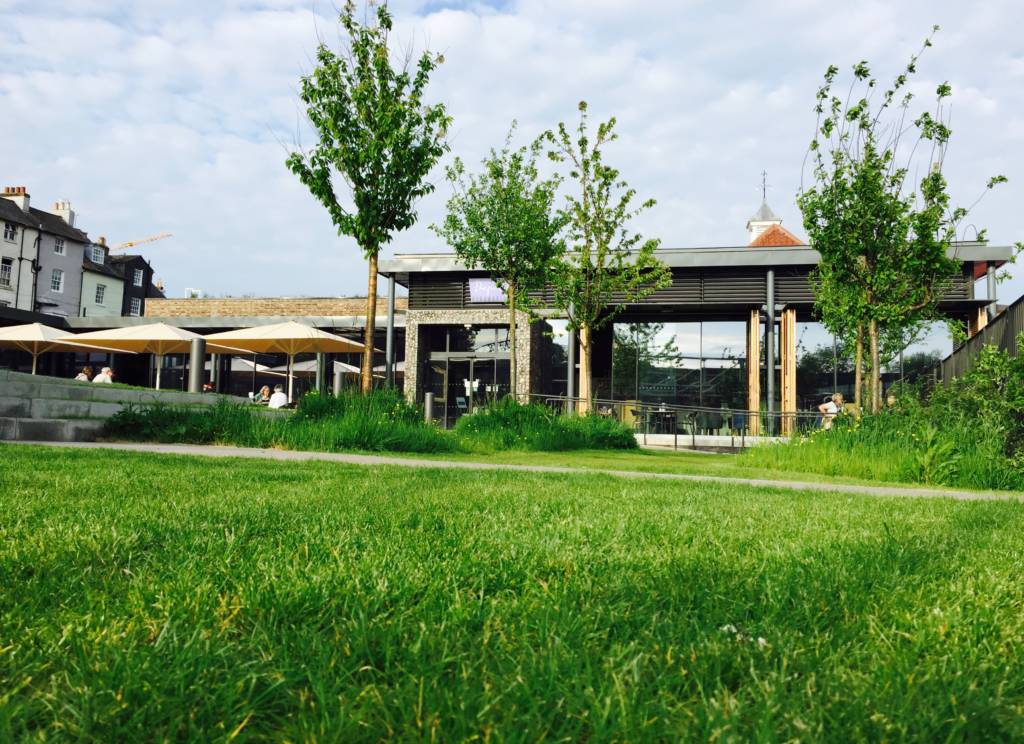 Greener by design
Depot was designed and built on environmentally responsible principles, with a determination to create a venue with the lowest possible impact.
The cinema is unique in its investment in a Ground Source Heat Pump (GSHP) which serves as a geothermal heating and cooling system. The GSHP takes care of our efficient underfloor heating and heats our water to 60 degrees. This reduces our dependency on fossil fuels significantly and lowers our electricity bills. We source our gas and electricity from a company that only use renewable energy. Solar panels provide another renewable source of electricity.
Every opportunity to minimise energy consumption has been designed into the building: double glazed windows; LED lighting; automated systems for internal and external lighting; use of roof vents rather than air conditioning in the restaurant area, along with shutters to regulate sunlight and heat. We save water using automated systems on our taps and urinals (one flush every four wees!).
We have a living roof with local Chalk and Downland plant species which provides excellent heat and sound insulation and prevents excessive water run-off. It also helps to soften the landscape for our neighbour's view from their windows and it is a source of pollen and habitat for insects. We have nesting holes built into the brickwork beneath the roofline with holes for swifts, sparrows and bats.
Replacing concrete with lawn, fruit trees and flowerbeds has transformed the original hard surface to a pleasant green environment. We used local materials (shingle, flint and chestnut) to blend in with our surroundings.
In terms of our cinema technology, our projection system is run on an IP network with around 80% of films delivered via LANsat meaning we don't rely on drives to be regularly transported by vehicle. Two out three of our projectors use laser instead of Xenon lamps which last significantly longer and use less power.
Greener choices
Two years since opening we are committed more than ever to keeping our carbon footprint as low as possible through sound practises across all aspects of the organisation and actively promoting sustainability both to our local community and within the exhibitor industry. Our ethos is to contribute more than we take out so there's always more to do!
Our cinema programme regularly features awareness raising films and supports local environmental initiatives through value added events, workshops and debates to provide meaningful engagement with our customers. A recent success was our second annual Fashion Revolution day in partnership with Dolly Clothing (local advocates of sustainable slow fashion) comprising of a film, fashion show, flash mob and second hand clothes swap.
We promote public transport through providing a secure bike park, live bus and train displays and actively discourage use of cars.
Our restaurant is passionate about offering our customers locally produced, high quality, seasonal and lovingly prepared sustenance. Every product used here is rigorously considered before coming part of our offering. We check our supplier's credentials, ethics and locality. Great suppliers always have interesting stories to tell and we love supporting and showcasing their unique and special qualities.
We don't sell any drinks in or from single use plastics. Our takeaway cups are plastic-free (and most are used in house in our screens meaning we can dispose of them responsibly), we only serve paper straws on request and we actively promote tap water via our in-house water station. We give a discount price to customers using their own refillable cup.
Waste management requires relentless dedication. We are keen to apply circular economy principles so product considerations start with limiting packaging wherever possible. We are dedicated to choosing supplies that have the lowest possible footprint from manufacture and can be easily and readily recycled or even better reused. We separate our waste types to recycle wherever possible. Food from general waste which gets composted into fertiliser and energy at anaerobic digestion facilities. We prioritise suppliers who deliver in reusable containers such as our coffee and dairy/meat suppliers.
There's no denying that it takes a huge amount of time, dedication, research and consideration to make the best choices we can. Convenience is our constant enemy. Trying to navigate through the process to find the best choice for the purpose whilst not compromising on exploitation and affordability is a minefield but there's a huge sense of pride and satisfaction gained through making responsible choices.
With 'boutique' cinema chains in particular experiencing a boom in growth, with plans for many more cinemas being built across the country, there is real opportunity for cinema to invest in venues from an infrastructure level (the most effective way of reducing emissions). And just think what multiplex cinema chains could achieve with each change!
We appreciate it's a daunting prospect getting going and we recognise that the challenges will be different across the industry but once you start making changes I guarantee you will want to shout them from the rooftops (great PR!) and be eager to tuck into the next improvement.
We often get asked for suggestions on how to make a start so I'll finish up with some takeaway top tips for improving your cinema. We are always keen to be part of a greener network to share knowledge and expertise. Be in contact and let's get plotting! May the force of good be with you…
10 tips for running a more sustainable cinema
1 Commit to a renewable energy provider (e.g. Ecotricity, Green Energy UK)
2 Regularly maintain your equipment and infrastructure (clean filters increase efficiency, reduce costs and use of fossil fuels)
3 Engage an energy consultant who can measure all your equipment and make energy saving recommendations (this WILL save you money!)
4 Appoint an in-house ambassador to help drive the green agenda (I dedicate one full day a week to sustainability at Depot)
5 Serve tap water instead of bottled
6 Reusable containers for stock/deliveries (prioritise traders that do or use your buying power to convince traders to adapt)
7 Eradicate single use plastic wherever possible by using reusable, compostable or recyclable alternatives (incentivise customer refill options e.g. 10% off drinks served in own cups, glass, industrial composable single use cups such as by Vegware)
8 Separate waste types and recycle
9 Use local suppliers and distributors
10 Engage and inspire your customers with regular environmental themed screenings, promotions and campaigns
Would you like to experience one of the UK's greenest cinemas? Join us at Summer Screening Days this 6-8 July! Registration is open until Friday 14 June. 
Depot is a client of the Independent Cinema Office's film programming service. Explore how we can help your venue and get in touch.