Archive Screening Days takes place at BFI Southbank today, Thursday 9 December 2021. It's an event to help share film history and history on film, and discuss ways to bring archive work to audiences. To accompany the event, film programmer, curator and creative producer Niki Harman writes about the techniques you can use to engage audiences with silent and archive film in a collective encounter that goes beyond the usual cinema-going experience.
How do we feel film?
Early film theorist Siegfried Kracauer wrote, "film images affect primarily the spectator's senses, engaging him psychologically before he is in a position to respond intellectually". Whilst we as filmgoers now have a developed language to respond to film, there is something about Kracauer's words that resonates today. Before we interpret a film by breaking it down into pieces of form, style, genre and content, how do we instead feel and what is the lasting encounter of that feeling? In particular, how can we experientially use archive and silent film and give audiences a fresh, emotional, visceral, embodied and meaningful experience?
Like many other lovers of film, as a child, I would watch the same films on repeat, to the point of immersion. I knew the smell of Salem as we ran through it on the night we lit the black flame candle; knew how my nose would crinkle in mischief and defiance when switching places with my twin; knew the feeling of dancing with a ghost when he turns into a real boy and whispers "Can I keep you?".  I didn't just watch films, I lived them, developing muscle memory around them all.
As an adult, I have similarly felt films when attending immersive cinema events and through my work with Nottingham Contemporary's The Screen at Contemporary programme. When seeing Nosferatu in a railway bunker – with a score by the fantastic Minima – we were in a party in a tunnel, most of us were standing, a bit confused, a bit tipsy, all captivated! It was a totally different experience to watching it on DVD a couple of years before. It made me think about the audience's collective experience in a new way. How might people have an encounter with cinema that had been unknown, lost or even stale to them before, in a way that could allow them to encounter themselves? And how might we curators, producers and programmers create these experiential viewings for audiences and how can we use archive and silent film to do this in engaging ways that connect?
I received a tweet the day following one of our silent film events that said it was "still on my skin" – this is the essence of what we try to do with our immersive cinema events, or "cinematic happenings".
What is immersive cinema?
An immersive film screening can be partnered with a variety of different activities. We have offered silent films with live scores, alternative drag performances, used set design and lighting, food, smell, costume, dance, experimental theatre, ritual, performance art and technology all to build an immersive experience. During one event we projected Maya Deren shorts and archive film from New Orleans on a huge concrete wall as a jazz band played. During our Heartbreakers Ball (a Valentine's Day prom for the heartbroken), a stack of TV's played a montage of romantic films on a loop as people got drunk on "you were never really my baby" punch.
We couldn't do these events without building our creative networks. If someone is doing something interesting that you think would work, meet them and share ideas. These conversations are where the spark of inspiration often comes from. These are just examples, but there is a wide range of art forms that can be paired with film to help it come alive.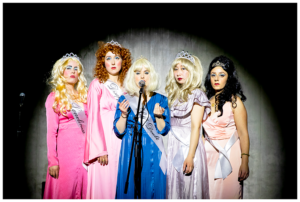 Building a cinematic world and making it experiential
A good place to start is setting the scene and building a world around the film. For one of the early immersive cinema events I curated, THE LOVE WITCH: A CINEMATIC HAPPENING, I wanted the journey to start much earlier than the event itself. So we made the promotion of the event immersive in itself. This was the story we created: You find a business card with a pair of hypnotic eyes, on the back, it says, "Text Me". If you do send a message, you receive an invite for the Halloween party and you're sent to a DIY website where a compilation video plays featuring 1970s psychedelia, witchcraft, cults, Jefferson Airplane and spooky music. You're told to dress accordingly. You arrive and a blood-red filled auditorium plays Anne Biller's feminist masterpiece The Love Witch and the audience are in costume.
You move next door to the bar, which looks like a cult clubhouse, a shrine to the Love Witch. Occult banners hang from the walls, a group of people wear white, the band TOY play, a dance troupe perform and throw ritual flowers at you whilst Nancy Sinatra's Sugartown lulls in the background. All the while, projected above, is a montage of archive film put together by visual artist Wayne Burrows. Re-edited from out-of-copyright digital archives, mostly from the Internet Archive & San Francisco-based Prelinger Archive, and featuring footage from commercial and industrial films made in the US between the 1930s and 1970s, but with some older European material mixed in like Haxan and George Melies shorts. Burrows wanted to have the films be something to gaze at whilst the atmosphere swirled around, giving the audiences an alternative way to engage. This event built a world of its own, and it's an event we still get comments on a few years later. Blending archive film with performance art, music, and set design enabled the audience to engage in ways they might not have before.
Touring Programmes – sharing our resources
Each 'cinematic happening' can be very labour intensive. Between funding bids, costume, commissioning artists, music, set design, seeking rights and developing marketing resources – it can be a huge undertaking. Many of us don't have the capacity or funding to do it frequently within our roles. So, to give others the chance to try, we trialled a tour to see if it's something there was an appetite for.
With the support of the BFI Comedy Genius initiative, we commissioned Haiku Salut to do a soundtrack and lamp show accompanying The General, which we toured as The Buster Keaton Pictureshow. We created a trailer, social media story, a poster/leaflet, instructions on audience entry into the film that included a preview film reel to set the scene and a playlist of music from the year of its release. The idea was a reference to the Picturehouse experience. The whole package passed from one venue to the next. After two screenings at Nottingham Contemporary in January 2019, it toured throughout the year at cinemas, festivals and multi-arts venues and only stopped when the COVID-19 pandemic hit.
Touring immersive cinema worked and we are looking to do this again in 2022 and are hoping we can expand the conceptual side further. Sharing the resources and expertise amongst us in showing archive and silent film can help reach and engage audiences and make it truly immersive. Creating and sharing an immersive cinematic experience for audiences is an increasingly exciting prospect today when a moment to be in a dream world with people around you would be a welcome wonder.
Niki Harman is a film programmer, curator and creative producer. Primarily based at Nottingham Contemporary where her focus is repertory film seasons and immersive film events and happenings through The Screen at Contemporary programme. She is currently organising a city-wide immersive film festival in Nottingham in March 2022.