In this article, curator and subtitler Sonali Joshi considers the importance of subtitles and audio description in making films accessible to wider audiences, and highlights the skill required to make these elements blend seamlessly into a filmmaker's work.
In Atom Egoyan and Ian Balfour's seminal text Subtitles: On the Foreignness of Film, they state, 'Every film is a foreign film, foreign to some audience somewhere.' The very essence of cinema is rooted in accessibility, while cinema is by its very nature an art form that offers audiences access to a world of other places, cultures, communities, experiences, ideas and imagination. In considering the value of and need for access in cinema, I will explore the principal means of screen access – subtitles and audio-description, elements that can become part of the texture of a film, another layer, integral to the connection between cinema and audience. There's an inherent value in subtitles. They promote inclusion and diversity, present windows on other cultures, societies and ideas, and are an educational tool in foreign language learning and film literacy.
The skill in subtitling
Subtitling is an art form in itself, creating an interplay between text and image, with the ability to enhance the viewing experience. It is our responsibility as subtitlers to respect the author's intention and style, cultural contexts and nuances in relation to translated subtitles, and transposing layers of sound into text for the d/Deaf and hard-of-hearing.
For subtitles to act as that vehicle effectively and efficiently, they need to be as unobtrusive as possible. The best subtitles blend into a film seamlessly. Yet in this digital age when automation and machine translation enable subtitle creation with ease, and when the subtitling industry has been driven down financially over the last decade especially, the easy route is always there, albeit without the precision and expertise of the subtitler – an approach that I, of course, as a subtitler would never subscribe to, for lack of quality and thus failure to enhance content. Subtitling is a unique form of translation that combines technical acumen and linguistic expertise. The best subtitles are those that we practically don't 'notice' when watching subtitled content. Translation choices, technical considerations and sensibility towards cinema all combine. The subtitler has to get into the mindset of the characters as well as the headspace of the filmmaker in order to transpose that onto the audience with authenticity.
Cinema for everyone
On winning the Academy Award for Best Picture, Korean director Bong Joon-ho now famously said, 'Once you overcome the one-inch tall barrier of subtitles, you will be introduced to so many more amazing films,' underscoring the very essence of access and cinema. Subtitles are the gateway to a whole world of cinema.
There is of course the common perception that subtitles create a barrier and are not readily accepted in Anglophone countries – the idea that one doesn't go to the cinema to 'read a book'. However, if we consider silent cinema, intertitles were an integral part of a film. Subtitles are the evolution of intertitles. Now in the 21st century, you only have to look at the success of many non-English films and programmes to break down this notion.
Crouching Tiger, Hidden Dragon (Ang Lee, Taiwan/Hong Kong/US/China 2000) was a kind of watershed moment that proved that non-English films that may traditionally be deemed 'arthouse', can be huge commercial successes. The following year, Amélie (Jean-Pierre Jeunet, France/Germany 2001) confirmed this. In recent years, the explosion of Nordic Noir television series and films, from countries in which subtitling is so strongly embedded in moving image culture, is equally testament to the fact that subtitles need not be a barrier to mainstream success. On the contrary, we all come to film with something of ourselves, we identify in different ways with characters on screen. Subtitles don't become a barrier to that, but rather draw us into a cinematic world, making moving image content more readily accessible for mass audiences.
And with Parasite, we saw a non-English language film for the first time winning the Academy Award for Best Picture. That is groundbreaking and testament to the fact that subtitled films can be films for mass audiences. It's the authenticity of the film that comes through in the subtitles, and that's also down to the fact that the subtitles were of such exceptional quality and have been widely praised – not least down to the skill of the subtitler, but equally the rigorous process that the subtitler and Bong Joon-ho engaged in – such that the art of subtitling itself has become part of the discourse around the film and its reach to global audiences.
Parasite may well be the next turning point for wider acknowledgment of the value of subtitled cinema and with the recognition that the film received, this illustrates that subtitled cinema has the ability to reach wider audiences and we need not feel that one-inch barrier. And most importantly, the fact that it is the first non-English language film to have won the Academy Award for Best Film is a pivotal moment for cinema.
Audio-description and diversity
While subtitles aid the navigation of sound in moving image culture, audio-description uses sound to navigate visuals for blind and partially sighted audiences. Audio-description is a different kind of art form, one that can be likened, for example, to listening to a radio play. After all, there are many ways in which cinema is akin to radio in terms of audio. Audio-description enables the listener to imagine the cinematic world that has been presented on screen.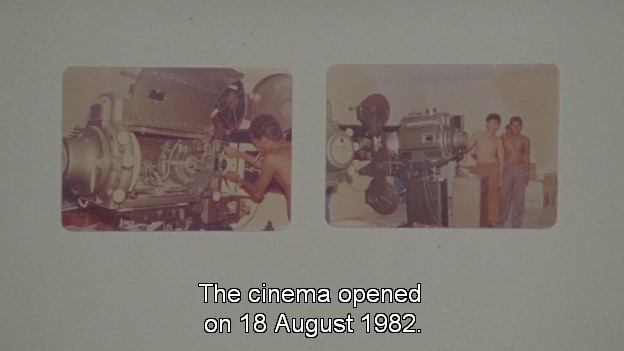 Enabling blind and partially sighted audiences to engage in cinema, as well as the d/Deaf and hard-of hearing through accessible subtitles is vital in the quest for inclusion in cinema and being able to engage diverse audiences. Making cinema accessible is also about embracing diversity in cinema. Accessibility and diversity go hand in hand. The last project I worked on before lockdown this year was The Perfect Candidate (Haifaa al-Mansour, Saudi Arabia/Germany 2019) – an outstanding film about female empowerment in a country where the rights of women are repressed, and by a female director. Another major audio-description project I worked on was for Malaysian documentary Eye on the Ball (Yihwen Chen, Malaysia 2019), again a film that encapsulates inclusion and diversity on multiple levels, also by a female director, although the subject matter is all male. The film charts the highs and lows of Malaysia's blind youth football team as they seek to qualify for the World Blind Football Championship. The challenges of audio-describing a film of this nature were multiple, not least being a documentary with fairly constant dialogue. Therein lies one of the necessary skills of the audio-describer – working within the boundaries of existing audio to create a script that flows seamlessly, while elaborating on key visual elements. Both films portrayed issues around diversity, and in both cases, subtitles for the d/Deaf and hard-of-hearing and audio-description were created, thus enhancing the film for wider audiences and illustrating that inclusion, diversity and accessibility all go hand in hand.
Although in this current climate we've been forced into rethinking and reframing what we do as curators, programmers, venues, distributors and beyond, this is equally a moment of opportunity, to embrace inclusion and diversity, to think about possibilities and how access can play a central role in developing audiences because it's that diversity of what cinema can be, what it can represent that then has the ability to resonate with wider audiences.
Sonali Joshi is a curator and subtitler, and Founder/Director of Day for Night, working across film exhibition, distribution and access.