We spoke to our film programmers Heather McIntosh, Isabel Moir, Jonny Courtney and Selina Robertson about what they watched at this year's London Film Festival and their top tips for titles to look out for in the coming months. 
Heather McIntosh, Film Programmer
Bloody Nose, Empty Pockets, dir. Bill and Turner Ross
There has been a lot of excitement around Bloody Nose, Empty Pockets following its premiere at Sundance earlier this year. The film has since travelled to the Berlinale before playing in the Journey strand of the UK's London Film Festival. At the time of writing, there is not yet a UK distributor.
The film is set in a Vegas dive bar, and documents the last day of its life before it faces permanent closure. We're granted access to the characters who inhabit the space during that time, some passing through, others there for the entire duration. The film feels unique, real, and true, and that's because it is. The directors – brothers Bill and Turner Ross – took an approach that blurs the line between narrative and non-fiction filmmaking, resulting in a film that bursts with authenticity. To find the exceptional cast, the directors visited various dive bars in the US and recruited people through informal interviews – essentially just by chatting to the people that hung out in them. As well as using predominantly unprofessional actors, the film was largely unscripted, and the drinks, joints and acid that appear in the narrative were actually consumed during filming.
The result is an incredibly special, funny, joyful and touching film. We gain insight into the characters' lives; their dreams and ambitions, their disappointments and pain, the ways in which the world has let them down or failed to deliver on its promise. It bursts with energy while at the same time the stagnation feels palpable.
The film took me by surprise in a way so few do. There is a rich depth to the infectiously likeable characters, and you feel their chemistry and connection so intensely, both to each other and to the space itself. It made me beam with joy and feel deeply sad. Where will they go once the film is over? It's the question both the characters and the audience are trying to resist thinking about the entire way through. How do you hold onto the joy of the present moment when you can feel the weight of the loss that's incoming?
At its heart, it's a film about community, and I can't remember seeing the magic of that feeling captured on film as well as this manages. Lots of us have been lucky enough to know a space like that. Where you can wander in at any time, be with your people, and feel at home. They can be spaces of conflict, comfort, support and heartache, but imperfect as they are, they are ours. They have been ours. At a time of such aggressive global gentrification, it's almost impossible not to read the film as an ode to all the spaces that haven't made it.
Bloody Nose, Empty Pockets has stayed with me and will continue to stay with me for a long time. It made me long for my community, miss my in-person relationships, and most of all, made me want to get good and drunk in a physical space with the people I love.
Time, dir. Garrett Bradley
Time played in the Debate strand of this year's London Film Festival. It's a poetic and beautifully woven documentary, showing the painful effects of long-term incarceration on one family, as the film's matriarch and main subject Sibil 'Fox Rich" Richardson fights for her husband Robert's prison release.
As the documentary has a black family at its centre who are railing against the prison system, the film has been discussed as timely, following the murder of George Floyd and the heightened global awareness of, and outrage at, the pervasive systemic racism that caused his death. While the injustice of racist mass incarceration could be said to form the backdrop to Time, structural issues are not the film's main focus. It's much more a personal and human meditation on love, dedication and resistance than it is a social issue film.
The intimate nature of Time comes largely from the use of home videos, seamlessly interlaced with more contemporary footage of the family's ongoing battle. All rendered in black and white, editor Gabriel Rhodes deserves naming for their amazing work on this project. The 21 years that Fox and her six children have been forced to spend apart from their husband and father are delicately yet succinctly documented in only 81 minutes.
It's an incredible feat to paint a picture as expansive as this film does in such a short running time. We experience the full gamut of Sibil's life over the course of her two-decade-long struggle for justice. Alongside fighting for Robert's freedom, Sibil raises six kids, helps run a business and campaigns for prison abolition. She's determined not to let her husband be robbed of all the moments he's missing, collecting them in her home video footage. We see all the bigger, landmark events featured like birthdays and graduations, but the real beauty is in the banal, the quiet everyday moments that she's keeping safe for him. Their eventual reunion at the end of the film is as moving as you'd expect.
It's incredibly smart and deeply affecting. Garrett Bradley won the Directing Award in the US Documentary section of Sundance, making her the first Black woman to win the prize.
The film is available to watch on Amazon Prime from 23 October 2020.
Isabel Moir, Film Programmer
Limbo, dir. Ben Sharrock
Set in the harsh weather conditions of the Outer Hebrides, Limbo follows Syrian musician Omar (Amir El-Masry) as he and his housemates await the results of their asylum claims. There is no indication of how long Omar has been waiting or how long the process will take, creating even more uncertainty over their future. The characters bond over this strange shared experience as the remoteness of the  landscape surrounding them acts as a constant reminder of the distance they feel from their homeland. There is much repetition in the way they fill this time by binge watching episodes of Friends, travelling to the one pay phone in the village and having to attend perplexing culture-awareness lessons accompanied with role play scenarios. Social interactions with the sometimes curious and fascinated locals serve to highlight their feelings of otherness and their heavy burden of concern for the lives of loved ones they have left behind.
Director Ben Sharrock sensitively balances comedy and tragedy throughout, never shying away from the loss of life and the long inhuman process the characters are expected to go through. The film's deadpan and often absurdist humour echoes the work of Aki Kaurismäki, as well as Elia Suleiman, which Sharrock cites as his prime influence. But with just his second feature, Sharrock has also managed to carve his own space out as an exciting new voice in cinema.
This year's first edition of the Virtual LFF Audience Awards saw Limbo among the top three most voted for films, along with StudioCanal releases Another Round and Supernova. Fortunately for UK audiences, Limbo has already been picked up by MUBI distribution.
Chess of the Wind (Shatranj-e Baad), dir. Mohammad-Reza Aslani
Amongst all the new releases and premieres, it is always such a highlight to see which recent restorations and rediscoveries are included in the festival's archive selection. A welcome feature of this year's edition was to see that the archive choices were made available to watch for free on BFI Player including Mohammad-Reza Aslani's debut Chess of the Wind. Following its initial release in 1976, it was long thought that all existing copies of the film had been lost after the 1979 Iranian revolution. Thankfully, a rare copy was discovered at an antique shop decades later, which led to the film being lovingly restored by the Film Foundation's World Cinema Project.
This hugely atmospheric gothic drama takes place not long after the death of the family's matriarch, inviting us to witness the aftermath of this tragedy against the backdrop of a decadent old house. This dramatic change in the family dynamics soon brings conflict and personal greed as their inheritance is divided between her daughter and second husband. Elements of horror, mystery and melodrama combine as tensions and paranoia rise amongst those still living in the darkly lit claustrophobic interiors. The results make a bewitching nightmarish watch led by the film's strong female characters at the forefront of the story. Rich visuals and ornate set design are accompanied by a strikingly evocative score by film composer Sheyda Gharachedaghi which stays with you long after the closing credits.
Jonny Courtney, Senior Film Programmer
Another Round (Druk), dir. Thomas Vinterberg
The latest film from Thomas Vinterberg (Festen, The Hunt) could be described as a high-concept Scandinavian art-house film. What would happen if you were to drink just enough to raise your blood alcohol level to such a degree that allowed you to function at your best? This is what the four middle-aged friends decide to try, in part as an experiment, and also to escape the perceived mundanity of their daily lives. Think Force Majeure meets Limitless…
At the centre of the film is family man Martin, inhabited by a superb Mads Mikkelsen; a man who can't see the gifts he has in front of him as he sleepwalks through his job and relationship with his wife. His friends feel similarly disillusioned, despite their somewhat privileged lives, and the experiment leads to some hilarious early scenes as the confidence starts to flow, but as the drinking becomes more ingrained in their daily lives and the days start to blur, the psychological effects on their fragile worlds (and egos) becomes clearer.
Vinterberg refuses to take a stance on the morality of their experiment. Whilst the lows are certainly played out in a number of outrageous scenes, the seductive nature of drinking is also recreated here as brilliantly as you'll see on screen; you can feel the warm glow of the low-lit bar and the hedonistic freedom which arrives alongside the first drink. The film is more interested in the relationships between the four men, sympathetically depicted here as honest and supportive; something rarely seen particularly when focused on the middle-aged.
As you'd expect from Vinterberg, Another Round has its fair share of darker moments, but there's no getting away from it, this is a hugely enjoyable film. Studiocanal are set to release in the UK on 27 November, and should find success in independent venues, with a chance to break out further with strong word of mouth and critical support.
Selina Robertson, Senior Film Programmer, Special Projects
Ammonite, dir. Francis Lee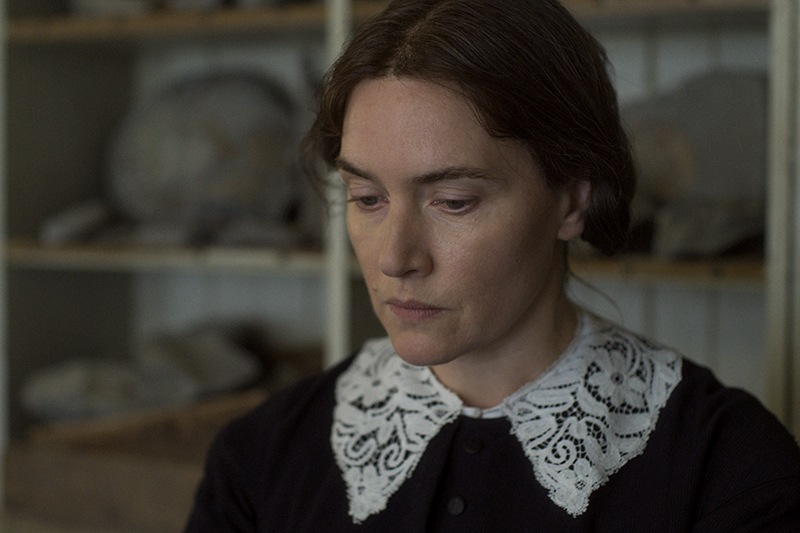 Francis Lee's destined-for-awards follow up to his critically praised debut God's Own Country (2017) explores similar terrain, that of the queer lives of working-class people and the rural landscapes that shape them. Set in 19th century patriarchal and class riven England, Lee has boldly queered history in this prestige costume drama, as he re-imagines a quiet yet passionate lesbian love story between two lifelong friends, Mary Anning a self-taught, working class palaeontologist and fossil dealer and an upper-class married woman, the geologist Charlotte Murchison.
Set on the wild expansive beaches and salty cottages of Lyme Regis, Lee's superb casting finds Kate Winslet as Mary and Saoirse Ronan as Charlotte deliver an outstanding two-hander in a classic case of opposite attracts. What a pleasure to watch Kate Winslet embody Mary, a cigarillo smoking, haughty (yet vulnerable) trouser wearing, mid 40s butch woman, labelled as 'the deity of Lyme' fall hard for her ward, Mrs Murchison, a role Saoirse Ronan equally inhabits, a 20 something broken girl/woman, grieving the loss of a child. With a strong supporting cast of Fiona Shaw, Alec Secareanu and Gemma Jones, this is a swooping yet understated, at times dialogue free, story of not only two women in love but also a political one about the systemic erasure of women's work and knowledge from histories of science which the film's superb final shot attests too.
Ammonite will be released by Lionsgate in 2021.
Kajillionaire, dir. Miranda July
Miranda July has come a long way since her 90s feminist performance work sharing bills with Chicks on Speed and video art collaborations but thankfully, even though she lives and works in LA's hip bubble, she has kept her queer and feminist politics close. It has been 15 years since July wrote, directed and starred in her first feature Me and You and Everyone We Know and nine years since her memorable turn as a talking cat in The Future. Here again July writes and directs her third movie, Kajillionaire, yet she has handed the acting over to a career defining turn by Evan Rachel Wood, who plays long haired, skate girl Old Dolio, the daughter of down and out grifter parents, double-delightfully played by an almost unrecognizable Debra Winger and Richard Jenkins.
Old Dolio is having a young person life crisis because she realises that her childhood upbringing has been far from normal; when she meets gregarious Melanie (Gina Rodriquez), a young woman who is equally eager to shake up her world adopting herself as a second daughter, more scams ensue whilst unexpected emotions begin to stir between the two women. With typical July panache, the film is packed full of fabulous performative strange rituals and encounters, such as Old Dolio's sneaking-under-a-wall backbends or her nifty enter-the-post office-somersaults. Ultimately, it's hard to describe just what the film is, a lesbian coming out story, a goofy crime caper, a meet the parents' cautionary tale, a celebration of weirdness or a critique of advanced capitalism? It's all of the above, and I laughed a lot which felt wonderful.
Kajillionaire was released by Universal on 9 October 2020.
The BFI London Film Festival 2020 ran from 7 – 18 October in a hybrid format of online screenings and in-venue screenings in cinemas across the UK. Head to the BFI's YouTube channel to catch up with the festival's Virtual Audience Awards as well as recordings of many events which took place during the festival.