Our FEDS Trainee Scheme is at the forefront of changing and diversifying our film industry. The scheme offers participants a ten-month long paid traineeship in the exhibition sector, as well as mentoring and expert industry advice. In this blog, we hear from Patrice Robinson about the work she did on Leytonstone Loves Film, as part of her placement at the Barbican.
After a 15-month delay in starting due to the pandemic, I experienced several emotions prior to my placement as a FEDS trainee but mainly, there was excitement, anticipation, and relief.
I applied for a place on the scheme because I wanted to learn about and, in time, contribute to the reduction of a large gap that exists between film (the artform) and the audience. For a long time, in my opinion, impactful and meaningful film, created by those within underserved communities has been overlooked. If fortunate enough to gain attention, this work is then often consumed only by those with increased access, excluding large swathes of potential cinema-goers. I believe that effort needs to be made by everyone within the industry to ensure that we reach these underrepresented audiences.
As someone who has always worked within communities, I wanted to merge my love of film with my love of people. Being placed at the Barbican, I felt it important to seek opportunities to work in a way that aligns with my original motivation to start a career in the film industry.
Thankfully, in June I joined the fantastic cinema team who have been supportive of my learning and motivation. I was offered the opportunity to merge my two interests and work on Leytonstone Loves Film (LLF) – a community festival which hosts numerous local filmmakers and artists, using multiple venues in the Leytonstone area. LLF is organised in collaboration with the Barbican, whose curators add to the programme.
I worked two days, supporting the venue management of Leytonstone Library. The larger screenings took place in a theatre hidden at the back of the first floor. Upon first viewing the 1930's Art Deco architecture, I wondered how many locals knew that this room existed? How many times outside of the festival was this stunning venue used for film screenings (or anything else)? How many other seemingly hidden community spaces could there be across the UK? Following this experience, the use of public spaces to hold screenings is something I'd like to explore further.
On the Thursday, the New Black Film Collective screened Looking for Love by the late Menelik Shabazz. I spoke to a regular customer about what brought him there. He said that he hadn't known that the event was taking place but saw the signage and attended the event the previous night. He liked that the screenings were interesting, free and close to home. This inspired him to re-attend, despite him not being familiar with the content. It was not lost on me that the ease and accessibility of events was what encouraged this customer to return and explore something new to him. The well-planned event which included an intro, the feature, a comedy set, and post-screening Q&A is what kept him planted firmly in his seat.
On the Saturday, there was lots to get involved in. I was excited by the buzz created when the audiences arrived in anticipation of each screening. From children making a beeline for the popcorn, to the poignant silences experienced during the screening of shorts such as Lana Kaiser (2020).
My highlight of the day was the Family Film Club ran by Sign for All Community. Led by Irina Drytchak, the company aims to ensure that access and awareness for D/deaf families is provided. The subtitled screening of Ernest & Celestine was thoroughly enjoyed by the audience, made up of both hard-of-hearing and hearing families.
I learnt that clear face masks, labels next to refreshments, the provision of a British Sign Language Interpreter and the support of those who have knowledge of bridging the gap between hearing and hard of hearing audiences, is important to running an accessible event. I began to consider the benefit of larger exhibitors being involved in community cinema, and how they could make better links via co-curated events such as LLF. When talking to a Barbican curator who programmed films for the event, they raised the point that festivals such as LLF allow the Barbican to showcase films that are very hard to see in the UK, outside of places like the Barbican, for free. Such collaborations appear to be mutually beneficial in part; larger establishments act as an access portal, which may support smaller collectives in achieving increased sustainability. The other party is able to increase their reach to local communities and establish communication in ways not done before.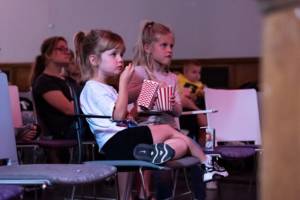 From my experience at LLF, I found that audiences seemed divided in their attendance patterns. On the one hand, I noticed that the option to 'drop in' to events was popular. It indicated that some festival goers were more spontaneous with their choices. On the other hand, customer drop-off rates from advance bookings were higher than expected. Fears around COVID-19 could have been a factor in this. Thankfully, one balanced out the other.
Working at LLF reminded me that underrepresented audiences of all types are very interested in engaging with film; it is the industry that needs to do better in removing barriers to accessing it. Having content primarily curated by locals makes film appear less elitist. I have seen first-hand that community organisations often have strong and well-established audiences that can be tapped into, if given respect and the appropriate care. Events at LLF that were run by well-known community groups had high attendance rates, with audiences engaging with those they knew and trusted. Moving forwards, I'm encouraged to learn more about what outreach I can do to develop relationships with communities.
The 2022 edition of the FEDS Scheme will open for applications early next year. If your organisation could benefit from welcoming a FEDS trainee in 2022, please get in touch to express your interest by 12 noon on Monday 6 December.