Berlin Film Festival 2015: Selina's blog (part 2)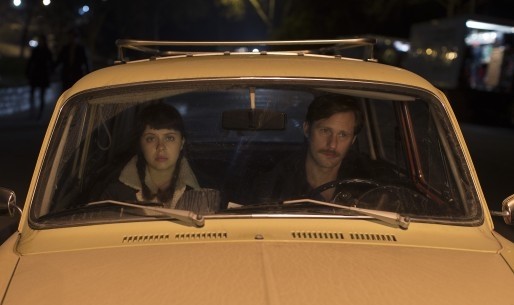 Another buzzy title from Sundance was The Diary of a Teenage Girl, based on the graphic novel by Phoebe Gloeckner and adapted for the screen and directed by Marielle Heller. The film charts the coming-of-age adventures of Minnie Goetze, a teen growing up fast in the counter cultural haze of 1970's San Francisco.Memorably, the film opens with Minnie self-proclaiming to the audience, I had sex today… holy shit. British actress Bel Powley (who will shortly be seen in A Royal Night Out) delivers a dynamite break out role as Minnie, an inquisitive fourteen year old with a big head of brains and a burgeoning sex drive, who sets her sights on her mothers (Kristen Wiig) boyfriend Monroe, played with balance by Alexander Skarsgaard. Apparently Sony Pictures Classics co-president Tom Bernard dubbed 2015 Sundance as the year of the women on the market strength of this one film. Interestingly for an American teen comedy-drama, the film has a European approach to (teen)sexuality: liberal, with a fair amount of nudity and refreshingly free from the morality police. Under Heller's astute direction the film also gives weight to the source materials semi-graphic novel, with Sara Gunnardottir's animations illuminating the blossoming Minnie's imagination in a brilliant 1970's Crumb/psychedelic style. Joyful.
The Summer of Sangaile came recommended by a Berlin journalist friend who had already watched the bulk of the festival films. This poetically shot, Lithuanian coming-of-age drama, up for the Teddy Award, tells the unusual story of Sangaile, a seventeen-year-old tomboy fascinated by stunt planes but with a fear of heights. Over the course of a long hot summer Sangaile befriends a local girl Auste, who she meets at the summer aeronautical show, and together as friends and eventual lovers, Auste helps Sangaile overcome her fear off lying. Writer/director Alant Kavat has made a beautifully poignant film full of surprises, with honest lead performances and lyrical cinematography that captures the distinctive Lithuanian summer landscape. The film missed out to Sebastian Silva's Nasty Baby for the Teddy Award, which was possibly the more bombastic choice,but for me, Summer in Sangaile felt a far more accomplished and multi-layered film.
The very talented Berlin New School filmmaker Andreas Dresen's latest drama As We Were Dreaming (Als wir trumten) showed in Competition (alongside Werner Herzog's highly anticipated but poorly received Queen of the Desert). Dresen's previous film Stopped on Track, a highly emotive and affecting drama, won Un Certain Regard at Cannes 2011 but unfortunately, As We Were Dreaming, with a screenplay adapted from Clemens Meyer's award-winning novel about a group of Leipzig best friends just after the fall of the Wall, fell way short of its potential. Are view in The Hollywood Reporter described the film as a period movie that plays like a bathroom read.  The weakness possibly lay in the screenplay that was led by a predictable voice-over narration lacking in any real tension, intercut with flashy chapter headings like Murder in Germany, Rivalry etc…  Nevertheless there is much to enjoy with the films mise-en-scene setting the scene for the heightened chaos and hedonism of those early post-Reunification days.
Nothing hits the spot like a cracking essay film and Exotica, Erotica Etc…apart from its creaky title, did just that. With a synopsis that reads, Sailors are like terrorists. They arrive in ports with a bomb called love and throw it. And do you know what happens? The bomb explodes when they go away and they never come back, destroying the hearts of all the girls in the neighbourhood. How strange, to love somebody who pays you… Reader, I was hooked. The film posits the idea as the sea as a place of longing and desire, a world of vast container ships with their all-male crews and the women who wait for them in the ports and bars. The filmmaker Evangelia Kranioti travelled to 16 countries and lived with a multitude of prostitutes including one in particular, Sandy, whose eloquent words and memories haunt the film alongside the inner monologues of the sailors and their maritime stories. A truly impressive piece of filmmaking that marries sound, image and ideas in a distinctively evocative and poetic fashion.
Victoria was the young punk in Competition, an incredible heist thriller shot in real time in a one-shot take over the course of one night in Berlin. Directed by Sebastian Schipper, an actor-turned-director possibly best known for a part in Run Lola Run, the film follows the outlandish escapades of a young Spanish woman called Victoria (Laia Costa) and four Berliner best friends called Sonne, Boxer, Blinker and Fu who meet outside a club and together embark into the Berlin night… Thankfully I can't deliver a spoiler alert because I had to leave the screening just at the point that the newly formed friends drive to meet some local hoodlums to pay back money owed from a prison debt. Safe to say, this is a big audience pleaser playing especially well to younger audiences for its audacious single two hour shot.
My final film of the festival came recommended by Colin Burch at Verve Pictures: Superwelt is Austrian actor-turned-director Karl Markovics (The Counterfeiters) follow-up to the highly original Breathing (2011) and played in Forum. The dapperly-dressed Markovics came along to introduce his screening with a few words about the idea of freedom and what that means in a European 21st centurytime poor lifestyle.
Gabi Kovanda, brilliantly played by lead actress Ulrike Beimpold, is a buxomly-built married supermarket worker whose life rotates around the routine of her family and her job, until one day after work she appears to have a close encounter with God. The rest of the film plays out like a comic fairytale as Gabi becomes more and more distracted and her family less and less patient with her bizarre change in personality, possibly putting it down to early dementia or even a mental breakdown.
On reflection, the films set up is its strength, as Markovic's posits a playful mix of black comedy and everyday magic set in a mischievous post post-modern Lynchian landscape. The tongue in cheek plot runs out of fun in the films second part as Markovic's seems to not know what to do with his idea and how to conclude Gabi's religious experience. The films ultimate strength is Ulrike Beimpold's performance which is a masterclass of nuanced acting, and even though the film has a muddled anticlimactic ending, Markovic's intro does stay with me alongside Gabi's probing question to her husband, How often have you been happy?