In a male-dominated industry, entry points for young women into film programming are key. We spoke to Megan Mitchell, independent programmer and producer of Matchbox Cineclub about new women programmers currently coming up across the UK and how annual national exhibition umbrella Scalarama has given them a way into the sector.
"I thank Scalarama, for being both keeper of the flame and keeping an eye on the future. Because in addition to knowledgeable and experienced professionals, the film industry needs young people who are willing to take risks" – Jane Giles, film exhibitor, distributor and former Scala programmer
From arts centres to community halls to the backrooms of pubs and beyond, women across the UK are challenging the canon of cinema – with women programmers curating, running and sustaining exciting film events across the country both within and outside of traditional cinema spaces and established film festivals.
As an independent programmer myself, currently producer of Matchbox Cineclub (and despite hurtling towards the near senility of turning 25!) my own priorities for the film industry remain grounded in wanting the voices of young women amplified, and for them to take hold of film programming across cinemas, festivals and in their own independent exhibition efforts.
To that end, each September I am heartened by the activity of independent women programmers across the UK, in particular within Scotland, presented under the Scalarama umbrella. Scalarama in its most simple form is a collective of exhibitors, big, small, established and new, who come together each September to celebrate eclectic film programming in the spirit of the Scala cinema, a suitable entity worthy of praise when it comes to the voices of young women since Jane Giles, amongst other young women, was at the helm of Scala's programming.
This year's Scalarama Scotland programme includes the debut of new exhibitors Diet Soda Film Club. Headed up by Sarah Nisbet, who has also been running Reel Girl Film Club since 2017, Diet Soda will be screening all three of Gregg Araki's rarely screened teen apocalypse films under the Scalarama umbrella on the 26th September. Although Diet Soda has a wider remit in terms of programming (their club name is a result of man in their university class taking the mick out of their taste in films), Reel Girl has a more focused aim, as Sarah explains: "Reel Girl Film Club's mission is to screen films by women filmmakers to a wide audience, to celebrate their works and achievements in what is a male-dominated industry; and secondly, to show realistic and diverse representations of women on screen." They've enjoyed notable success with their friendly, inclusive ethos – "Since our first screening as part of Scalarama '17, we have steadily grown and are now a team of five" – and are currently looking ahead to upcoming Scalarama screenings including But I'm a Cheerleader in Manchester and Bend it like Beckham in Edinburgh.
Sarah isn't alone in feeling empowered by Scalarama to venture into programming. Isobel Harrop founded of CineWire: Warrington Film Club,which is currently on hiatus as Isobel has taken the leap from screening in community halls to studying Film Programming and Curation at the NFTS, after engaging with Scalarama. She also found that it sparked a passion for engaging audiences and challenging representations on screen. Isobel got started by going to a Scalarama Liverpool workshop on DIY screenings, which led her to think about putting them on herself. "Scalarama gave me an idea of what went into programming. I then started looking for other opportunities in film and came across the Young Film Programmers opportunity at Storyhouse in Chester, which was a short train ride from me. This was my first proper experience of programming and I had such a good time; the short course was really thorough and we did everything from picking our films and booking them to marketing, budgeting and arranging wrap around events."
"So after all that, I became interested in the idea of starting something for myself, especially as in my hometown of Warrington there was very little access to independent, interesting film without travelling to Manchester or Liverpool; and the opportunity came up to receive some funding and support from Cinema For All as part of their Launchpad scheme."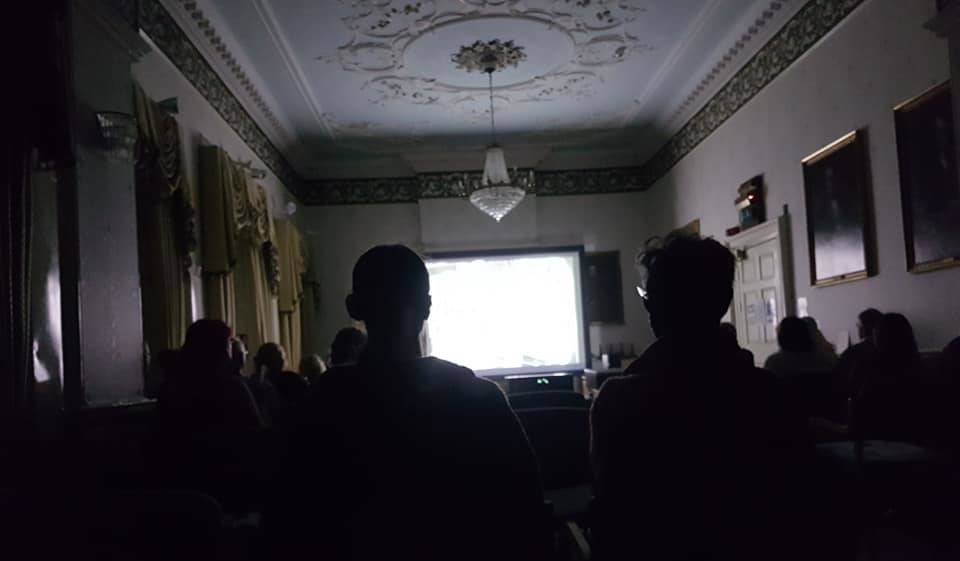 Funding plays a massive role in allowing (or disallowing) women to programme and run film events. Unfortunately, the voices lacking in the industry obviously tend to be those of the people who can't afford to create and sustain events out of their own pocket, who lack the financial stability to take risks and keep on taking them.
Amanda Craig started She's En Scene in early 2018 to host community screenings where women could watch, discuss and experience cinema in safe spaces in Glasgow, and cites lack of access to funding as a key reason for her being unable to sustain running film events, including sold out screenings of The Love Witch, Ratcatcher and for their final event, Skate Kitchen before having to give up the project.
"This isn't exclusive to this industry, but as a working class freelancer, I struggled to continue to work (unpaid) within film exhibition and still struggle working in the third sector. Most film funders only fund the project itself, not your wage and when they do fund you, it's a small fee which barely covers your travel. That's totally fine if you're financially better off or advantaged but those on low incomes can't work for nothing. She's En Scene was completely ran by volunteers and mostly supported through fundraising. I was doing full time hours unpaid covering community engagement, promotion, funding applications, social media, record keeping, event planning and admin, while also working three other jobs to pay rent. I eventually had to stop – rent and food and my mental health had to come first. I was devastated but it was the right decision."
Amanda is nowhere near alone in struggling to have her voice heard through film programming while dealing with the realities of the finances required. Isobel also highlights funding points as a barrier to programming. "I think the biggest challenge to starting up programming is the financial barrier. There are some great schemes with local film hubs and Cinema For All, which are great to get you started but it still feels like you have to invest your own personal savings a lot of the time, even if you're able to claim it back later. There are lots of great schemes out there, but I just would love for there to be even more that help – and awareness raised for the help – to allow more people who don't have money in the bank to invest in their ideas to be able to realise them. It's people who have less access to the finances who probably have the least access to cultural opportunities, and may have great ideas about what people need and want to see, and they should get support for that."
Though funding can still be a hindrance, Scalarama has the opportunity to be a launchpad for women programmers, with Scotland's activity an example of the structure's ability to foster collaboration, growth and sustainability and this year the busiest yet, including over 70 events across the month. Scalarama hubs exist across the UK and can be brought into existence by anyone who wants to coordinate activity in their area through monthly meetings, regular workshops or online groups.
There's still a long way to go until the industry has equal representation, in race and class as well as gender – but Sarah, Amanda, Isobel and myself are all hopeful that with so many amazing women across the UK taking film programming into their own hands, change is coming.
Megan Mitchell is the programmer and producer of Matchbox Cineclub in Glasgow. Their next screening is Kaleidoscopic Realms: Japanese Experimental Shorts of the '70s & '80s, a programme of short films by directors Naoto Yamakawa, Nobuhiro Aihara and Toshio Matsumoto, running this Sunday 15th Sept as part of Scalarama Glasgow 2019. Follow Matchbox Cineclub on Twitter, Facebook and Instagram for updates on future events.