Kristina Johansen-Seznec is Head of Marketing at one of Scotland's most dynamic arts institutions, Dundee Contemporary Arts (@DCAdundee). Incorporating a two-screen cinema, two galleries, a print studio and a visual research centre, DCA has a famously wide-ranging and eclectic programme and is a world-class centre for the development and exhibition of contemporary art and culture. Kristina, over to you!
What was your route to your current position at DCA? Did you arrive at it via an interest in film, in marketing or both?
When I was a teenager I was obsessed with film. I grew up in a very small place where there wasn't really a proper cinema so my best friend Helen and I used to go to the local video shop and rent any movies we could find, sometimes watching five or more in a weekend. We had a voracious appetite and would watch anything from the sublime (The Usual Suspects) to the terrible (She Fought Alone). But strangely I never really considered film as a possible career. At university I studied English and History of Art and quickly found marketing, PR and events roles in the arts sector and I worked in several museums and galleries before coming to DCA.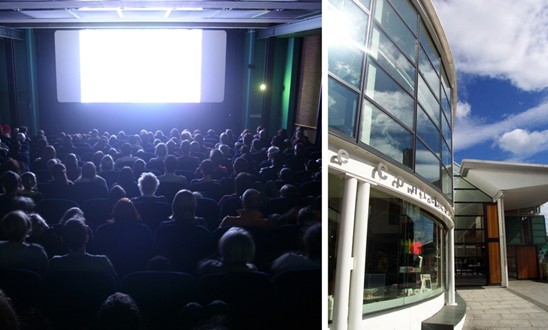 What key films and/or cinematic experiences informed your appreciation of cinema?
Because I didn't live near a real cinema when I was younger most of my film experience was via video or later DVD. However I did visit cinemas whenever we went on holiday. My favourite was Colosseum in Oslo where we went whilst visiting family. It's a beautiful cinema with a huge screen and this was where I watched the re-mastered re-releases of the original Star Wars films and later the Lord of the Rings trilogy with my brother Pete and my cousins Jorgen, and Andreas.
Please describe a typical day in your role,and the types of tasks you undertake.
The great thing about my job is that there isn't really a typical day. DCA has two cinema screens, a large contemporary art gallery, print studio and cafe bar and I am responsible for the marketing of the whole building, not just the cinema.
What film events at your venue are the most challenging to market and why?
Like other cinemas we find art house titles like Ben Rivers' Two Years at Sea or The Turin Horse the most challenging to market. The best way to approach this is to try and build a community around this type of cinema, targeting students and building a list of interested contacts, as well as by cross-promoting these titles with other activity we have on offer. This is something we already do now, but once our new website is launched I would like to do more with this strand of the programme.
Whats the general marketing ethos at DCA? How has it evolved in the last few years, and where do you see it going next?
The marketing ethos behind DCA is to be as audience-focused as possible; we try not to broadcast about events but to target our activity at the key audience groups who we think will respond best to a title.
DCA has a large and varied programme and we try and give attention to as much of the activity as possible. For everything we try and identify key groups who might be interested in a specific title, for example sending special stickered versions of our Cinema Guide to local bike shops to advertise The Armstrong Lie or linking up with the YSL beauty counter in our local department store to promote Yves Saint Laurent. This year we are putting a lot of effort into revamping our online and ticket offer, and over the last few years more and more of our activity has taken place online. But this doesn't mean that we will be cutting back on print and physical marketing, rather that we will be able to be even smarter and more targeted about what we do.
Please describe what methods you use to market the film programme e.g. print brochure, e-newsletter, website, social media channels and which you think are the most important for your audience(s).
The short answer is we use them all! Like many cinemas our marketing efforts currently revolve around the production of our Cinema Guide, which we print on a 6 weekly cycle. We survey our audience every six months and we use the results of this survey to determine what is working with our audience. Our last survey was completed in January of this year and told us that 38% of our audience cited the Guide as the reason they had selected to see that film on that day.
However the Guide is under pressure for a number of reasons. Its a lot of work to produce, and is expensive to print and distribute. In addition, distributors are increasingly reluctant to commit to a release date as far as 6 weeks in advance. This leaves us in a difficult position; we know our audience likes and trusts the Guide more than any other marketing activity but this wont be the case when we can no longer accurately promote the films within it.
Over the next 6 months we are going to review our Cinema Guide to assess whether it is still sustainable, and potentially make significant changes if we think they are the right choice for our audience. At the same time we are investing significantly in redeveloping our website and ticketing system (the current site is over 5 years old) so that any changes we do make can be backed up by a strong digital presence.
What are the most exciting things about your venue and what it has to offer?
The most exciting thing about DCA is the atmosphere and the people. We offer a great selection of films chosen with care specifically for our audience, in a vibrant and welcoming building. Its this personal and welcoming touch which makes DCA special and an exciting place to work.
If you were advising a new venue on how to market themselves, what key advice would you give?
Find out who your audience is and where they hang out (both in person and online) Don't be afraid to take risks and have fun with it!
And if you were giving advice for people looking to get into a similar career, what key advice would you give?
Marketing is a really transferable skill and the job experience is worth far more than qualifications. If you can get experience at a film organisation that's great, but if you can't it is worth getting relevant experience at other types of organisations (cultural, heritage, and in the business world). Also, never stop learning. Try out everything yourself, be the first to be on the new hip social network, don't be frightened to get out there to meet people in your area, call local businesses, make connections. The tools we use as marketers will inevitably change over time but key skills like networking and creating new partnerships will always be useful.
Finally please can you describe any particular successes you've had in cinema marketing?
A recent example I am particularly proud of is our social media strategy for The Grand Budapest Hotel. Our Cinema Coordinator Simon came up with a Guess Who? game using the photos of all the characters from the poster for our Film Quiz. We took this idea and developed it into a quiz which could be run on social media.We created a series of three visual clues on Instagram and shared them with our audience. People were allowed to have as many guesses as they liked but only correct guesses would be entered into a prize draw to win cinema tickets, posters and some macaroons coloured like those in the film. We had 20 individual entries on Facebook and 27 on Twitter.
Thank you, Kristina!