The Search for Shangri-la
The opportunity to visit a hidden world has always fascinated travellers and explorers. This selection of films from the BFI National Archive reveals extraordinary images taken in Tibet from 1922 -1950.
The first film was taken during the 1922 attempt to climb Mount Everest. Subsequently British political officers undertook diplomatic missions – one such visit witnessed the Installation of the Fourteenth Dalai Lama in Lhasa. Home movie cameras recorded these experiences, capturing ceremonial events, landscapes, flora and fauna. Collectively the films now provide unique and colourful evidence of these customs and traditions.
None of the original cameramen could have anticipated the devastating events that would overtake Tibet or predict the future for its religious leader. The images are poignant testimony and a vital record of that lost world.
Films
Climbing Mount Everest
1922 | ph. Capt. J.B.Noel | 10 mins (extract)
The first film record of Tibet – taken during the 1922 attempt to climb Everest. The British party were permitted by the Dalai Lama to travel through Tibet en route to the fabled mountain.
Courtesy of the Royal Geographical Society
Tibet
1928 | ph. Col.F.M.Bailey | 5 mins (extract)
Col. Bailey, a legendary explorer and secret agent, travelled through Bhutan and Tibet in the 1920s and 30s. His films capture rural life as well as documenting his travels.
Tibet
1934 | 3 mins (extract)
Sir Charles Bell, diplomat and friend of the Thirteenth Dalai Lama, returned to Tibet in 1934. In this extract he is seen using local methods of transport to cross a river.
Courtesy of the Royal Geographical Society
Mrs. Williamson's Films
1935 | 9 mins (extract)
Derrick and Peggy Williamson – political representatives in Lhasa – host tea parties and games at the British residency, including musical chairs and egg and spoon races.
Sir Basil Gould's Film Collection
1936 and 1940-41 | 12 mins (extract)
Sir Basil Gould, political officer, made two diplomatic missions to Lhasa. The first extract records his visit in 1936. In 1940 he was invited to witness the installation of the Fourteenth Dalai Lama.
Courtesy of R.Gould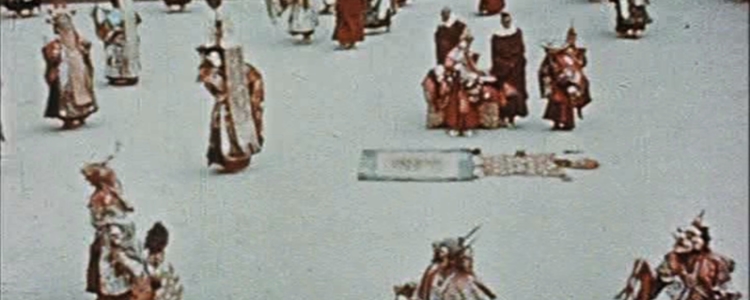 Mr.Baker's Film
1941 | 7 mins (extract)
Henry Baker accompanied the Gould mission and in 1941 he filmed the New Year celebrations, including the dramatic Black Hat dance.
Major Guthrie's Collection
c.1945 | 7 mins (extract)
Major Guthrie served as medical officer to the British Mission. The extracts show a visit from the Sakya Lama and his wife and a ceremonial procession including a unique close-up of the young Dalai Lama in his golden palanquin.
Courtesy of C. Guthrie
Major Sherriff's Films
c.1943 | 10mins (extract)
George and Betty Sherriff ran the British Mission from 1943 to 1945. George was also a legendary plant collector in Bhutan and Tibet. He created a delightful garden at the residency, often visited by local dignitaries, including the Dalai Lama's family.
Tibetan Scenes
1945 | 12 mins (extract)
Tsien Lien Shen represented the Nationalist Chinese government in Lhasa, prior to occupation. His vibrant films record ceremonial occasions as well as everyday activities. A highlight is an impromptu fashion show given by his guests.
The Lost World Of Tibet
c.1970 | 7 mins (extract)
Betty Sherriff, having returned to Britain, reflects on the time she spent in Tibet.
With thanks to Roger Croston