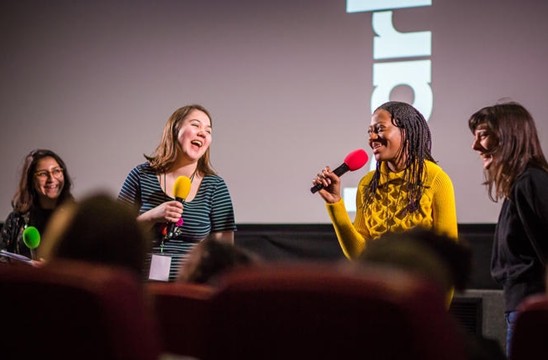 This online course has been created for members of the South East Young Film Programmers (YFP) Network as an information and training resource for young people joining their YFP groups.
A Young Film Programmers Group is a facilitated group of 16–30-year olds who meet on a regular basis to increase their knowledge of independent film and to programme, plan, market and present regular screenings, sharing their voice with a wider audience, in an independent cinema setting.
The South East YFP Network operates across Bedfordshire, Berkshire, Buckinghamshire, Cambridgeshire, Essex, Hertfordshire, Kent, Norfolk, Oxfordshire, Suffolk, Surrey and Sussex. The Network offers training and various opportunities to share experiences, best practice, resources and advice for progression within the film industry.
If you are interested in finding out about a YFP group local to you, please see our webpage.
If you are a member of a YFP group and would like access to this resource, please contact your venue directly or email filmhubse@independentcinemaoffice.org.uk.
Introduction
The UK Film Exhibition Sector
The Young Film Programmers Network
Being a Young Film Programmer
Careers
Conclusions
Lessons

An Introduction to Young Film Programmers

The UK Film Exhibition Sector

Young people, the cinema and film choice

What is 'specialised' or cultural cinema?

Why are big films dominating?

Exploring different voices

The Young Film Programmers Network

What is the Network and how does it work?

What does a YFP Group do?

What will you get out of it?

Being a Young Film Programmer