It's just closing in on the half-way point here at the Venice Film Festival and the sunshine has been replaced by torrential rain, thunder and lightening. My feet are wet and many of the films are too.
I'll skip talking about the actual films I am seeing as a juror for the Europa Cinemas Label Venice Days Award as we won't be deciding who wins until Friday night. But, outside of this, highlights so far include:
99 Homes from director Ramin Bahrani (who made Chop Shop and one of my favourite shorts of all time, Plastic Bag, which you can watch for free online) is a pleasingly angry indictment of the still reverberating sub-prime mortgage disaster, which precipitated the Western economic meltdown and destroyed many ordinary peoples' lives around the world. Construction worker Nash (a terrific, career best-to-date performance from Andrew Garfield) loses his home to real estate shark Carver (Michael Shannon), only to end up shamefully taking a job with Carver and evicting other hard working neighbours just like himself.
Much talked about has been Peter Bogdanovich's (The Last Picture Show) return, after a hiatus of 13 years, to fiction feature making with She's Funny That Way. While it failed to please most critics, it seemed to get the audience on side with its blend of Woody Allen-esque whimsy and schtick.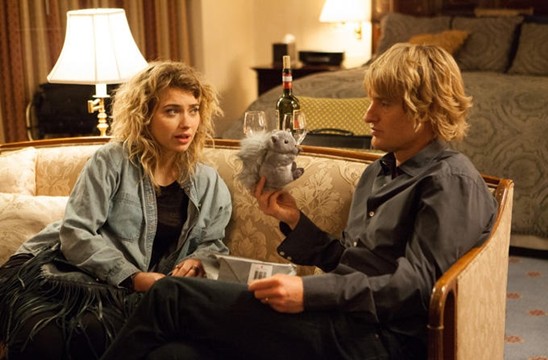 Also much anticipated was Ulrich Seidl's (Import/Export, Paradise trilogy) In the Basement. Seidl returns to his documentary roots here, with a typically provocative exploration of a cross-section of dysfunctional Austrians who use their basements for a range of socially taboo activities. A band of elderly Nazis drink amid banned Third Reich paraphernalia; a gun-obsessed survivalist creates a shooting range for him and his right-wing friends while privately singing opera; a dominatrix tortures her slave, and so on. The title inevitably brings to mind the Fritzl case, and this hangs over the film as Seidl asks what is it about Austria that can produce such a man. However, it does feel a little like this great Austrian filmmaker is marking time with a film which fails to surprise anyone familiar with his body of work, and the likelihood of it receiving a UK theatrical release is slim at best.
And staying with Pacino, David Gordon Green (All the Real Girls, Pineapple Express) continues his return to his roots (following his recent, acclaimed Joe) after his studio knockabout diversions and delivers a compelling character study of an isolated locksmith, the titular Manglehorn.
Estranged from his son, fixated on a long-lost love and embittered by his own dysfunctional inertia and rage, a budding romance with a bank teller (played with real charm by Holly Hunter) slowly teaches hermit Manglehorn how to embrace the world once again. It's a slight and overly familiar story, but is brought to life by Gordon Green's sure-handed and resolutely unsentimental directing and ably supported by his regular DP Tim Orr. It won't set the world in fire but it proves very effective and well handled.
Right then, back out into the rain for some more films…