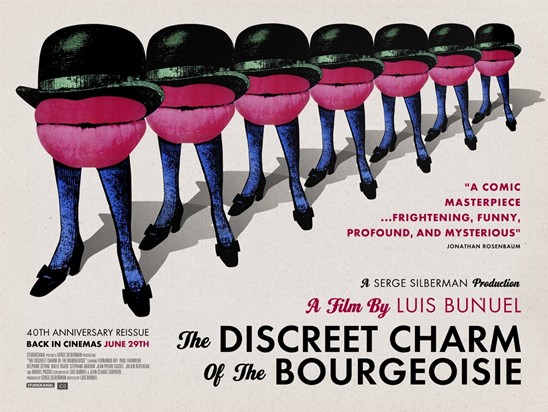 Our re-release of Luis Buuel's mischievous, satirical The Discreet Charm of the Bourgeoisie has been garnering some excellent (and creative) press. In the Guardian, Peter Bradshaw's 5 star review hailed the "surreal masterpiece" as an "exotic and brilliant hothouse flower of a film" whilst screenwriter Jean-Jacques Carrire, interviewed by Ryan Gilbey, called it "the most daring film" he made with Buuel. In Little White Lies, David Jenkins' review stated "It's still very harsh and bitterly funny, but there's a dark, messy humanism at its core that makes it so special, so interesting and so worthy of a re-release." The Quietus' fascinating article mentioned anecdotal evidence that Marilyn Monroe's ennui may have inadvertently inspired the film… ! And, our favourite: this comic-strip review by Electric Sheep, beautifully documenting the film's "slippery and surreal" appeal.
The last nationwide screening from our Made in Britain season is tomorrow, with Hammer Films' cult classic Quatermass & The Pit showing at 47 venues throughout the UK. As Close-Up Film asks: How can you not like a film that starts on the Central Line and ends up on Mars?! Adam Scovell, previewing the film enthusiastically on The Double Negative, says Roy Ward Baker's finest film for Hammer is the ideal introduction to the studio: "the chance to see one of their best films makes this an essential screening." And star Julian Glover sat down for an interview about his experiences on set – "They were spending a hell of a lot of money on locusts" – and his pleasure at the film's enduring appeal to audiences.
For the full list of screenings, click here.
In other news
Good reads
The experimental artist filmmaker Jeff Keen sadly died recently. Will Fowler at the BFI wrote this piece compiling tributes to the "playful and visceral artist and filmmaker" as well as a thoroughly inspiring obituary in the Guardian. You can see some of Keen's work on his website.
Some interesting thoughts around audience engagement prior to the box office.
From the LUX blog, a nostalgic read by Margaret Tait on the founding of her DIY film festival in the 1950s.
Calls for applications / submissions