Britain on Film: Welcome to Britain
In a time of constant debates around immigration both nationally and internationally, our latest Britain on Film on Tour programme looks back to chart a century of arrivals to the UK. Featuring the voices of different generations of British immigrants themselves, we are delighted to present Britain on Film: Welcome to Britain.
Whether seeking safety, freedom or simply a better life, the 20th century saw a rise in immigration to the UK. Sometimes welcomed, immigrants have also encountered hostility, racism and xenophobia even as they have enriched Britain's economy and cultural life.
What emerges from these incredibly valuable films is a picture of a country in flux as a century of conflict, the end of Empire and the forces of globalisation challenged geographical boundaries. See Basque families fleeing the Spanish Civil War arrive in Southampton; Vietnamese children find sanctuary in Birmingham; a Jewish family escape the pogroms of pre-war Romania for a Derby suburb. Witness early multi-culturalism in London and Manchester, the stories of second generation immigrants amid racism and rioting in the '70s and '80s, and the traditions, restrictions and comforts of immigrant communities.
During a period in which some UK residents are being asked to re-frame their presence in the country, this programme explores the manifold costs to our shared humanity in turning people away and contends that all citizens should have a right to call themselves British: no matter where they started from.
Films in the programme
Riots and Rumours of Riots
Dir: Imruh Caesar | UK | 1981 | 9 mins
Inspired by the 1981 'race riots', director Imruh Caesar explores the origins of radical Black consciousness in 1980s Britain by charting the experience of the preceding generation by layering audio-visual archive material with recorded testimony.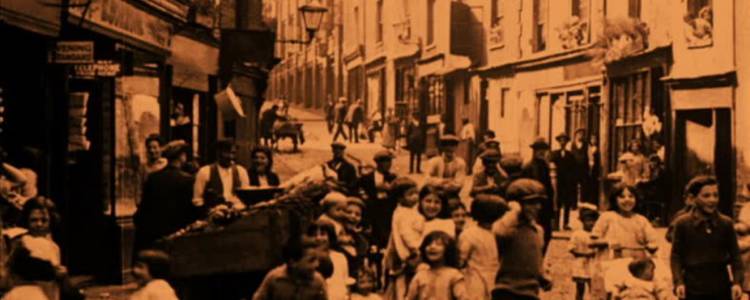 Cosmopolitan London
Dir: Frank Miller and Harry B. Parkinson | UK | 1924 | 3 mins
An extraordinary tour of a multicultural London rarely acknowledged by early filmmakers. Venturing off the beaten track, from the hodgepodge of Soho café culture to the "dim and mysterious" district of Limehouse – home to Chinese, Asian and African seamen – it's an eye-opening look at the melting-pot metropolis of the 1920s.
Basque Refugees at Stoneham
Dir: Henry Horton | UK | 1937 | 5 mins
In May 1937 just over 3,800 children from Northern Spain arrived in Southampton, in what was at that time the largest single influx of refugees into the UK. This home movie captures the children at Stoneham Camp in Hampshire, set up and run by volunteers, where they were housed before being dispersed to host families around the country.
Little Poland
Dir: unknown | UK | 1964 | 9 mins
Set up in 1948, llford Park Polish Home in Devon was a resettlement camp for Polish ex-service men and women who fought under British command in the Second World War, and welcomed Poles who had survived war, deportation and labour camps. By 1964 Ilford Park was a functioning community with a church, a priest, a doctor and a shop.
Polish School & Polish Costume Dancing
Dir: unknown | UK | 1966 | 2 mins
Opening scenes capture the busy atmosphere as priests and their congregation arrive for Sunday service at the Our Lady of Czestochowa Parochial Church in Devonia Road, Islington.
New Ways
Dir: unknown | UK | 1978 | 7 mins
Created by Ealing and Hammersmith Council as an introduction for South Asian people moving to the UK, this pithy documentary sets out the basics of adapting to life in England.
London Me Bharat
Dir: Vinod Pande | UK | 1972 | 14 mins
London Me Bharat (India in London) – the first Hindi-language film made in Britain – presents a distinctive and sometimes surprising view of Southall, home to one of Britain's largest Indian communities.
Irish in Brent
Dir: unknown | UK | 1991 | 11 mins
In 1991, Ireland provided the bulk of all new immigrants to Britain, with the borough of Brent having the largest concentration of Irish people in the London and South East region. This documentary, funded by the borough's Race Relations Unit, focuses on this community and the issues that confront them.
Ugandan Asians at Heathfield Camp
Dir: unknown | UK | 1972 | 8 mins
TV reporter Lawrie Quayle is at Heathfield Resettlement Camp at Honiton in Devon to report on the resettlement prospects for the Ugandan Asians.  Many of the arriving Ugandan Asians were highly skilled and employed by the British government in Uganda. Some held British citizenship. Here they show their frustration at not finding jobs and homes quickly and hope not to be a burden on central government.
China Town
Dir: David Yip, Kenneth Lo | UK | 1981 | 14 mins
One of the top TV stars of 1981, David Yip, returns to his home town to trace the hidden history of Liverpool's Chinatown.
Manchester Italian Catholic Procession
Dir: unknown | UK | 1902 | 3 mins
Though a settlement existed in Roman times, Manchester's Italian community grew in earnest from the early 19th century. Craftsmen, artisans and unskilled workers escaping dire poverty at home flocked to what became known as 'Little Italy'. This film records the community at its Edwardian peak, taking part in the annual Whit Walk procession.
Vietnamese Children Refugees
Dir: unknown | UK | 1978 | 5 mins
6,000 miles from home, these five children in a Birmingham department store at Christmas in 1978 are amongst those that survived the dangerous sea crossing to escape from the turmoil that gripped Vietnam following the Communist take-over.
Derby c.1938 - Eisner Personal Film
Dir: unknown | UK | 1938 | 2 mins
This charming 1938 amateur film offers a snapshot of a new life for the Eisner family, who had recently emigrated from Romania to a Derby suburb. In 1941, Romania entered the war on the side of Nazi Germany and large scale persecution of Jews began, with thousands murdered in that year's Iași pogrom. The Eisners escaped just in time.
Divide & Rule - Never!
Dir: unknown | UK | 1978 | 9 mins
This punk-infused documentary by the Newsreel Collective invites young working class Londoners to discuss their experiences of racism. First and second generation Black and Asian immigrants paint a detailed picture of discrimination in 1970s Britain.
Supported by
With thanks to